Algarve – yet again named 'the best place in the world to retire'
Published on 13th November, 2017 by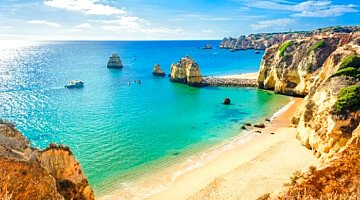 Algarve
According to the American website, Live and Invest Overseas, the Algarve has been named "the best place in the world to retire to" for the 4th year in a row! This is due to its impressive location, feeling of safety, a warm and friendly expatriate community and quality health care. Lisbon is ranked seventh.

"You couldn't find a more friendly, affordable and physically beautiful location than Portugal's Algarve region," said Kathleen Peddicord, the founder of Live and Invest Overseas.

Their researchers say the Algarve has "everything the would-be retiree could want - great weather and lots of sunshine year-round; an established and welcoming expat community; top-notch medical facilities and health care; an affordable cost of living, especially when you consider the quality of life on offer; undervalued and bargain-priced property buys, including right on the ocean; endless opportunities for fun, adventure, and enjoying rich, full, varied days out-of-doors; a great deal of English spoken thanks to the longstanding British presence; First World infrastructure; a new retiree residency programme that rolls out the welcome mat for foreign pensioners; and easy access both from the United States and to and from all of Europe".

American investors see their strengthening currency as an added advantage. "Portugal's property market remains nicely undervalued, and, again, if you're shopping with dollars, you've got super-charged buying power right now" the report stresses.

"From cost of treatment to ease of access, health care is an ever-growing concern for retirees. In this category, the Algarve, Portugal shines." The study highlights that public health care is available to legal foreign residents registered with their local medical centre. Generally, health care in the Algarve is good - the country's overall health care ranks 12th in the world.

As is the case with many European countries, public hospitals, such as the one located at Portimão, usually have better facilities for emergency situations than private hospitals. However, two large private hospital providers own and operate hospitals across the Algarve, with the nearest being the Hospital Particular, Alvor. Faro Hospital has gained a reputation for excellence especially with its cardiology unit.

The Algarve region also boasts some of the best golf courses in Europe. "You'll find more than three-dozen 9-hole or 18-hole layouts at 35 clubs around the region. 85 of the region's breath-taking beaches were awarded Blue Flags this year. Among the golfing, the beaches, and the excellent mountain-bike trails, you'll be pulling more than a 40-hour week in the sunshine (and the Algarve boasts more than 300 days of it per year)," researchers said.

In the category of crime and safety, the Algarve is also once again at the top of the list, being the 3rd most peaceful country in the world.
Published in: Travel / Property / Portuguese Life / Portugal Property / News and Updates / Health / Guide to Portugal / Business