Algarve – Europe's most famous secret!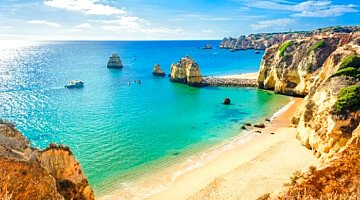 The Algarve
According to the latest study from the Post Office, the Algarve is the third cheapest holiday destination for UK holidaymakers for 2018, ahead of Prague in the Czech Republic and Cape Town, South Africa. This is driven by sterling's year-on-year gains against 70% of the top 40 holiday currencies.

Andrew Brown from Post Office Travel Money said: "The squeeze on spending at home means holiday resorts and cities where the pound will stretch further or where local prices are cheap are likely to reap the benefit of increasing visitor numbers in 2018."

This news comes off the back of the Algarve being named 'European sunshine champion of 2017' alongside the Greek island of Rhodes. This is from a study carried out by German website Wetteronline.de from 1990 to 2017 and was published in the German blog Algarve für Entdecker (Algarve for Explorers).

The study focused on which countries could be reached from central Europe within a three hour flight time.

According to the report's findings, both the Algarve and Rhodes enjoy an average of 8.6 hours of sunshine per day, ahead of the Spanish locations of Córdoba (8.5), Almeria (8.4) and Malaga (8.2). The top five is completed by Heraklion on the Greek island of Crete and Syracuse on the Italian island of Sicily (both 7.9).

The Algarve Tourism Association (ATA) welcomed the accolade, saying it helped to prove what the association has been saying for years – that the Algarve is the perfect "all-year-round" destination.

"The existence of a mild climate virtually all year round allows us to highlight the diversity of what the Algarve has to offer holidaymakers apart from sunshine and beaches," said ATA boss Dora Coelho.

This is proven by new government figures showing 50% of Portugal's tourism revenues are generated outside of the peak season, with tourism revenue expected to have increased by around 20% in 2017.
Published in: Portuguese Life