A Place in the Sun Live – Olympia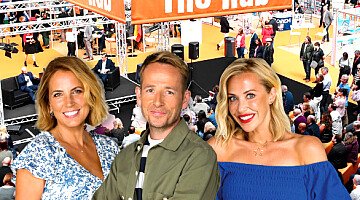 Berkshire Hathaway HomeServices Portugal Property is delighted to be exhibiting at 'A Place in the Sun Live', the official exhibition of the Channel 4 TV show and the largest overseas property exhibition in Europe.
On our stand, our knowledgeable team will have flown in especially for the show and you can discuss with them the thousands of properties available on our site to help make your dream of owning abroad come true. In addition, we can recommend expert service companies who can provide professional advice on legal, tax, healthcare, financial, currency transfer and relocation matters.
If you're still deciding whether to come along then consider the fact that there will be a world of properties - all under one roof! With agents from Spain, France, the USA, Cyprus, Turkey, Italy in addition to us from Portugal – plus many more countries will be at the show with a huge selection of properties for you to see. Holiday homes, rental potential, businesses or the dream permanent move abroad house.
Whatever stage you're at in your property search – from it being a dream to taking the plunge – the show is packed with essential information. There are seminars, presentations, discussions, 'Meet the Buyers' as well as experts such as us who live and work in Portugal. Our team will be happy to help you with your research.
Meet both the TV presenters and those who have bought after being on the show and find out 'straight from the horse's mouth' what their journey has been like.
There will also be lawyers, tax experts, currency teams and HM Government all at the show with the most up to date information there is, it really does have all the information and expert advice you need to help make the right decisions. It's a great opportunity to speak to many experts in one day!
Join us at London Olympia on 6 - 8 May 2022 – book your tickets HERE, the doors will be open from 10 am - 5 pm each day.
We look forward to welcoming you!
Alternatively contact our team of experienced Property Advisors: info@PortugalProperty.com or call us on +351 308 800 878 or 0800 014 8201 free from the UK.
Published in: Miscellaneous / News and Updates / Portugal Property / Property / Property for sale in Portugal / Site News / Travel