Sarah Piessens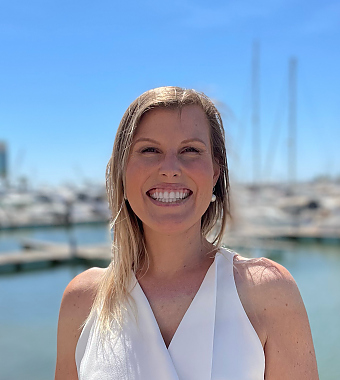 Property Advisor
Background
I was born in Belgium from a French-speaking mother from Brussels and a Flemish father, who in 1993 decided to relocate to Portugal's southernmost province – the Algarve. My twin sister Jessica and I moved along with them. They believed it was a safe and suitable place to raise a young family. I guess they couldn't be more right.At age 6 I started learning Portuguese at school, while at home I would speak French and Dutch.I spent my childhood and teenage years in Albufeira and later I went back to Belgium to pursue my university studies. I studied Law at the Université catholique de Louvain, in Louvain-la-Neuve. Afterwards, I returned to Portugal, lived a couple of years in Lisbon and completed a post-graduate degree in International Law and International Relations at the Faculdade de Direito da Universidade de Lisboa. I worked in a law firm for a while and ultimately came back to the Algarve, where I worked in marketing and advertising that helped me develop my communication and creativity skills.
What do you like most about Portugal?
You can find peace and quiet in unspoilt nature, from the Peneda-Gerês National Park, in the extreme northwest of Portugal to the Ria Formosa Natural Park in south-eastern Algarve.Portugal has a lot to uncover. I have been living here for so many years now and I'm still amazed by the tremendous set of landscapes it has to offer. When I was living in Lisbon, I used to run daily on the waterfront, it was awesome. I love to wander around Lisbon, drink a coffee and contemplate the beauty of the city from a "miradouro" (there are more than 20!) – I personally enjoy the Jardim to Torel, with a view over Avenida da Liberdade and all of downtown. To get here you can use the Elevador do Lavra, the city's oldest funicular. Stretching along the south coast of the peninsula of Setúbal, you will find the Praia de Galapinhos, in the Arrábida Natural Park, that has been named 'Europe's Best Beach 2017'. I have had the chance to visit a number of places in the World and yet it is in Portugal where I find myself at home. I feel it is where I belong.
Why do you like working for Berkshire Hathaway HomeServices Portugal Property?
I work with very nice people from different backgrounds that made me feel comfortable from day one. My supervisor and colleagues have managed to find the time to properly train me and share their knowledge. They would always offer to help me with a new task. One of the values that I appreciate the most is collaboration. I believe this serves as a competitive advantage as well. I feel there is an opportunity for growth and development within the company.There is recognition for a job well done, you feel valued.The managing team understands that a happy worker is a more productive worker. There's a saying "Team Work Makes a Dream Work" that Michael Vincent often uses, which happens to be true in every area of life. Working with others in a meaningful way helps us to feel good about what we do. And if you consider that you are, in a way, making a difference in someone's life by understanding their needs and helping them purchase their Portugal property (and by doing so, make them discover a new lifestyle) – that is very rewarding. It is a mutually beneficial experience.
What do you like to do when you are not working?
Enjoy the sunrise – my favourite time of the day. It's like a new page, an opportunity to adopt a positive mindset that will influence the rest of the day. Going for a long walk with my dog in the early morning and enjoy the moment. It's a way of focusing on what really matters. Being outside in nature, whether at the beach or in the countryside, makes me feel more alive, more energized. That being said, I also like relaxing, "doing nothing" days, and on those days my two cats are the best companions, they totally understand the need to be lazy. I have a special interest in Personal Development and healthy eating as I truly believe in "You are what you eat". And I love spending time with family and friends, preferably around a dinner table (or breakfast or lunch for that matter!). Good food and good company – what else? A nice glass of "tinto" maybe…