Debbie Kirk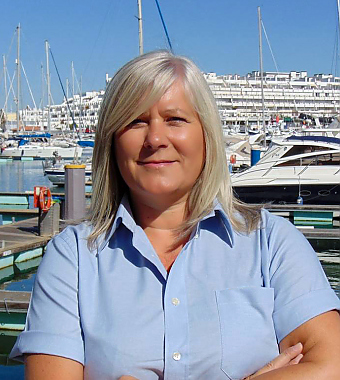 Property Advisor
Background 
I have always worked in customer service and sales, I really enjoy meeting different people and providing a service, previously in event management, hotel chains, & real estate whilst in the Algarve. I like to see the end result in people being happy and receiving the best possible outcome. Job satisfaction is important to me, I am proud to work for a successful company.  
I moved here with my husband in 2016, I live in Mosquieira Albufeira. 5 minutes from the beach.
My 2 adult children are in the UK. 
We moved to PT for a slower more enjoyable life. We both suffer with joint pain (arthritis) which has improved since we have lived in the warmer climate.     
What do you like most about Portugal?
I love the feel good weather, great food wine and festivals. Portugal has so much to offer, your spare time is much more precious as you can be outside so much more than the UK.
I love that it is green and lush. The people are friendly & accommodating. 
Why do you like working for Berkshire Hathaway HomeServices Portugal Property?
I enjoy being part of a team, working for Berkshire Hathaway HomeServices Portugal Property is like being part of the family. Professional and friendly providing a great customer service, as I would expect if I were a customer looking for the reassurance I needed.
What do you like doing when you're not working?
I love to cook, my way of relaxing, walking on the beach and cliff tops, bicycle riding, I also enjoy visiting historical towns buildings & street markets, sitting having a relaxed drink on the cobbled streets and watching the locals go about their business, I enjoy visiting many different cities of Portugal.