Weather in Portugal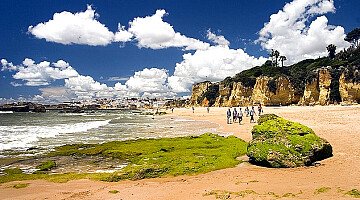 Portuguese winters can be rainy and chilly in the central and northern regions; even so, warm, sunny weather can usually be relied on from May to September around Lisbon and as far as Portugal's northern border with Spain.
Average winter temperatures for Lisbon and the Estoril coast are around 14-17 degrees Centigrade (58-62 degrees Fahrenheit). From July to September average summer temperatures for Lisbon are 19-26 degrees Centigrade (67-79 Fahrenheit).
On the southern tip of Portugal the popular coastal region of the Algarve enjoys a more moderate all-year-round climate. The winters in this area are mild, with many sunny days, but the Algarve summer is hot, especially inland, and in the hills behind the beach resorts. In the heat of the summer coastal resorts such as Vilamoura, Albufeira, Carvoeioro, Tavira, Praia da Rocha, Portimao and Lagos benefit greatly from the refreshing breeze provided by the Atlantic Ocean.
For information on Property for sale in Portugal, contact the Portugal Property team on 0800 014 8201 or email us on: info@portugalproperty.com
Published in: Miscellaneous