Port Wines - Portuguese Wines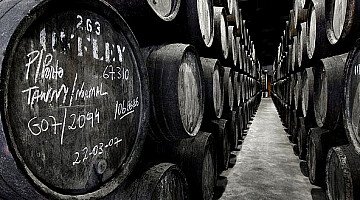 Portugal's most famous export, the dessert wine known to the English as port, but as 'porto' by the rest of Europe, still endures, despite the fads and fashion of the wine trade, and nothing is nicer than sipping a glass of iced white port whilst waiting for your grilled sardines in a beach- front restaurant.
Table wines in Portugal tend to be light. A good example of this is vinho verde, a crisp, greenish- white wine produced in the cooler, northerly province of the Minho, an area extending from the port producing city of Oporto to the Spanish border. Most Portuguese wines emanate from these northern districts and produce fresh- tasting table wines.
The Portuguese enjoy their wine, and no meal would be considered complete without it. As well as vineyards, the interior of Portugal has extensive almond orchards, and large olive groves have recently sprung up in the wine producing areas in response to a growing world-wide demand for olive oil. Much of Portugal's export trade is built around the production of cork, and there are vast cork tree plantations in the central regions.
Fifty percent of the world's cork production comes from Portugal, so this is a major currency earner for the country. Despite the increasing use of artificial corks, Portuguese cork growers are confident that in, a global market, quality wine producers will still demand natural cork for their bottles.
For more information on Port and Portuguese wines, contact the Portugal Property team on 0800 014 8201 or email us on: info@portugalproperty.com
Published in: Miscellaneous