Winter sun in the Algarve!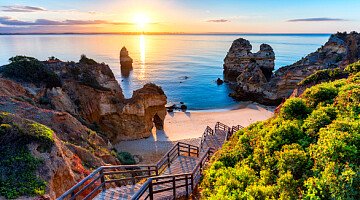 If the weather where you are is dark and depressing, then consider enjoying some regular winter sun in the Algarve which enjoys mild temperatures, half the rain and three times the sun compared to the North of Europe.
Many assume that the Algarve is just a summer destination, but increasingly winter visitors are making the most of the 87 Blue Flag golden sandy beaches and 300 days of sunshine a year.
The Algarve, popular for over 40 years, manages to entice more than 14 million tourists every year – thus it is seen as a real magnet for property investors.
The Covid-19 health crisis has encouraged many people with the financial means to look for a quality of life outside their primary country of residence. Portugal ranks top of the list as the market here is inherently robust and has weathered the pandemic very well. Considerable growth is forecast for the area with numerous reports, including Forbes magazine, claiming that the Algarve is the destination for a safe and peaceful retirement.
Retirees now pay 10% tax on their pension (previously, this was free of tax), but it is still a competitive arrangement, especially as the cost of living here is so much lower than in the UK and some other parts of Europe.
But it's not just for retirees as digital nomads are discovering they can work anywhere with a good internet connection. Moody's the credit ratings and investment agency, has recently highlighted a trend particular to the housing market, which should result in a growing demand for larger homes in suburban areas, rather than in metropolitan cities: "With people working more at home, (…) consumers will want bigger houses where they can work more comfortably, further away from these urban centres" – Moody's report 2021.
So with one of the best climates in Europe, first-rate leisure and health amenities, plus an array of world-class golf courses, invest now in an area that will almost certainly increase in value.
Contact our knowledgeable team at Berkshire Hathaway HomeServices Portugal Property – part of one of the world's most trusted and respected corporations. Telephone +351 308 800 878 or 0800 014 8201 free from the UK. Alternatively, email us at info@portugalproperty.com.
Published in: Business / News and Updates / Portugal Property / Property for sale in Portugal / Site News