Tourist numbers increase by 7.5%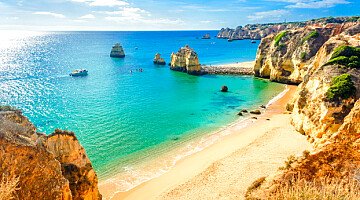 Algarve
If you are currently considering whether to leave your hard-earned savings in the bank or whether to invest in a second home in Portugal, then this news may just sway you!

According to the latest tourism statistics from the National Statistics Institute of Portugal, INE.pt, the number of tourists visiting Portugal reached close to 23 million in 2018, up 7.5% on the previous year. 

Portugal has also been ranked as the 17th most popular tourist destination – the World Tourism Organization says that the number of visitors to Portugal has increased by 25% since 2016 and is the country that has recorded the 5th biggest growth numbers.

So what's so special about Portugal? Here's just 10 reasons why we love Portugal!
High rental returns – gross rental yields in Portugal are among the highest in Europe, from 5% to 14% is achievable from the right property.
The government has strict planning regulations that secure the natural beauty and limit the supply of new properties – keeping demand high.
The country is politically stable and has no terrorism – it is the 3rd most peaceful country in the world (source Global Peace Index 2019).
Cultural richness. Among the sites inscribed in the World Heritage List of UNESCO, 13 are located in Portugal.
With flight times of less than three hours, a great choice of airports and low-cost airlines, the whole of Portugal is close, easy to reach and affordable.
The Portuguese are some of our oldest allies. They are warm, friendly and welcoming whether you are on holiday or a new neighbour and many speak English!
Food and drink remains incredibly low priced with a 'prato do dia' – dish of the day – lunch, desert plus wine for less than €9!
The combination of hot summers cooled by the Atlantic breezes and warm winter days make the climate unbeatable. Rain keeps the country green but with short heavy bursts, it's rare for it to be grey for too long.
It's easy to navigate and the roads are incredibly un-congested – even in summer, with new motorways spanning north to south and east to west. Public transport by road or rail is frequent, safe and affordable for those not wanting to drive. 
Excellent tax advantages. As well as the non-habitual tax regime, there is no inheritance or gift tax and no wealth tax in Portugal.
Published in: Travel / Site news / Property for Sale in Portugal / Property / Portuguese Life / Portugal Property / News and Updates / Guide to Portugal