Tourism in Portugal doubled in June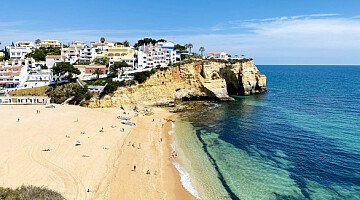 Published on
Recent data from Portugal's National Statistics Institute (INE) reports that hotels and guest houses welcomed 2.7 million visitors in June with a total of 7.2 million overnight stays — a year-on-year increase of 97% and 110% respectively.
In the North, Madeira and the Azores, overnight stays from overseas visitors exceeded pre-pandemic levels, although in general terms there was a 2.6% reduction in guests compared to June 2019 and a fall of 0.4% in the number of overnight stays during the same period.
Compared to May 2022, the number of guests grew 162% and 221% in terms of overnight stays.
While domestic guests represented 2.3 million overnight stays, up 16%, overseas guests stood at 4.8million which is up 241%.
When compared to June 2019 "the internal market grew 7.0% while overseas markets were down 3.5%" on the record year", states INE.
With the first six months taken as a whole, overnight stays increased 252% like-for-like, with growth up 84% for domestic tourists and 529% for overseas tourists. In comparison with the first half of 2019, overnight stays fell 7%; with an 11?ll in terms of overnight stays from overseas visitors and a growth of 5.2% in domestic visitor overnight stays.
Taking into consideration the results of the second quarter of 2022, overnight stays evolved in line with the results of the first quarter. While generally, overnight stays were up 209% in the second quarter of the year, compared to the same period in 2019, these were down 0.2%.
Now really is the best time to invest in a property in Portugal and capitalise on the surge in tourism. Discuss your property requirements with our multi-lingual, friendly and knowledgeable team of Property Advisors: email: hello@portugalproperty.com or call us: +351 308 800 878 or 0800 014 8201 free from the UK.
Download our magazine 'At Home'
Berkshire Hathaway HomeServices Portugal Property www.PortugalProperty.com
Published in: Business / Miscellaneous / News and Updates / Portugal Property / Property / Property for sale in Portugal / Site News / Travel