The Increasing Appeal Of Investing In Portugal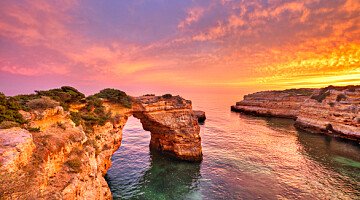 House prices, political divisions, high cost of living, the rise of remote work, security and a strong dollar at parity with the euro for the first time in more than 20 years — these are among the reasons which explain the wave of Americans relocating to Europe.
Currently, 1 in 5 property buyers in Portugal are from overseas and 31% of our buyers are from America - why?
Residency programmes: schemes such as the Golden Visa, encourage foreign investment in the Portuguese property market in exchange for residence permits.
Safety: Portugal remains one of the most peaceful and safest countries in the world. According to the Global Peace Index (GPI), Portugal is the 6th safest country in the world after Iceland, New Zealand, Ireland, Denmark and Austria.
Healthcare: Portugal's healthcare system is currently ranked 12th in the world and the country also has a well-ranked education system with a high level of English-speaking citizens. In popular ex-pat regions, almost every healthcare professional speaks good English. Healthcare in Portugal is subsidised and the National Health Service (SNS) is available to all national residents. Private healthcare is also very reasonably priced.
Affordability and sun: Portugal attracts many foreigners because of its affordability and sun. Indeed, the Cost of Living index always shows that Portugal is a country where it is relatively cheap to live.
"The U.S. has overtaken China as the top source of applicants for Portugal's Golden Visa. With about 5% rental income per year and capital appreciation of up to 4% a year, residential units in the interior of Portugal are still an attractive proposition"
Source – WorldFinance.com
As one of the safest and most economically stable countries in Europe, Portugal has, for a long time, been a destination of choice for real estate investors. Now with new rules in place which broaden access to include popular islands such as Madeira and the Azores, there has never been a better time to invest in Portugal.
Find out more by speaking to our knowledgeable and professional team. Email: hello@portugalproperty.com or call us: +351 308 800 878 or 0800 014 8201 free from the UK.

Download our magazine 'At Home' Berkshire Hathaway HomeServices Portugal Property.
Published in: At Home Magazine / Guide to Portugal / Miscellaneous / News and Updates / Portugal Property / Portuguese Life / Travel