Surf's up ... to 100ft!
Published on 4th September, 2014 by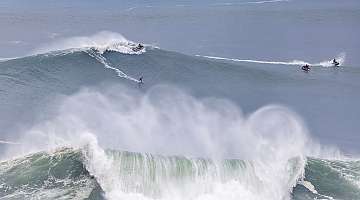 Nazare is well reknowned for its beautiful coastline and amazing waves. This Portuguese fishing town is now also making a name for itself as one of the surfing hot spots of the world as thrill-seekers flock to take on the challenge of its massive waves.
With waves of up to 100 feet high daredevil surfers are flocking to the coast of Portugal to ride these giant waves. The 125 mile long underwater canyon - which is up to three miles deep – off the coast of Nazare combines with strong Atlantic currents to create these awe inspiring, surfing dreamers waves.
In the peak summer months, the beaches of Nazare attract thousands of sun-seekers, but the scene transforms in the autumn and winter, as the Atlantic winds pick up, causing the waves to grow in size and power.
World famous American surfer Garrett McNamara, 47, is currently here in Portugal taking on the waves with friends. In January 2013, Garrett broke the world record for the largest wave ever surfed at Nazare, riding a 100ft swell.
Published in: Portuguese Life