Rediscovering Beauty and Art under the Portugal Sun
Published on 9th June, 2014 by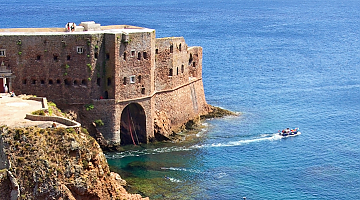 Confidence is booming for those in the travel and tourism industry involving Portugal. What is there to make Portugal the place to be? What isn't there! This beautiful land is located on the Iberian Peninsula of South-Western Europe and offers to its people and visitors some of the most breathtaking views, culture, and adventure to be sought after. Some of the main draws to the area include the ocean, golfing, excellent fishing, bird watching, historical landmarks, and the list goes on. If you are looking for a way to spend your summer, a visit to Portugal should be near the very top of your bucket list.
Exquisite Cuisine
Recent years have seen Portugal rise to the top of destinations for fine cuisine. Its location in a Mediterranean setting provides fertile ground to produce some of the finest fruits and vegetables available for harvest. The Atlantic Ocean provides an abundance of fresh fish. These things combined make it possible to get splendid wine, fish, and perhaps some pastel de nata for dessert. If gastronomy is one of your passions, then Portugal is a place you definitely want to visit.
Golfing at its Finest
The appealing climate, natural scenery, and the clean ocean air make Portugal the destination of choice for many golfers. Top names in the industry such as Rocky Roquemore and Arnold Palmer have had a hand in designing some of the best playing fields for the sport. The greens are often the site of professional golf competitions, and courses in the country have been awarded high honors for European golf destinations.
Is the Sea Calling?
With nearly 1000 kilometers of coastline and dozens of coves and cliffs, Portugal is one of the top destinations of beach goers from around the world. No matter if in search of snorkeling, diving, fishing, or watching dolphins and exploring caves by boat, the activities are available virtually year round. Algarve is among the most popular beach locations, but Alentejo, the Estoril Coast and Costa da Caparica respectively draw large tourism numbers.
Surfer's Paradise
Ericeira is one of the top 2 surfing locations in the world. Long stretches of coastline and the islands of Azores and Madeira, ideal conditions are readily available for surfers. Offering excellent waves from Barrel formation to towering waves it is a surfer's paradise. A noted surfing event, the Rip Curl Pro Portugal is a trendy competition that surfers take part in. Peniche is another spot that is frequented for the excellent surfing available as well as a variety of shipwrecks for scuba divers.
World History and Heritage
Portugal is chock full of historical sites and reminders of days gone by. People come by the droves to get a first-hand experience with these World Heritage locations. Places like the Alto Douro Wine Region, Sintra otter beautiful visions of the marvels of nature. Many of the architectural sites to see include many buildings of religious significance. The Convent of Christ in Tomar was an early stronghold of the Knights Templar. The Portuguese countryside is sprinkled with fortifications from coast to coast. A great number of these classical structures have been restored or preserved so that the history lives on for generations to come. Photographers can have a field day here with the vast number of once in a lifetime shots.
A Proud People
One of the best reasons for visiting Portugal is to spend the summer beyond the sites, and the food. Spending time taking in the sounds and the people is a great way to grow and understand something new. There is not a day that goes by that you cannot experience some musical gathering or display from local residents. In the city of Lisbon, for example, every May through September live jazz is played in the city with free admission to most parks. This is a splendid way to get to know the people, enrich culture, and learn to appreciate the beauty of life and art coming together.
One or all of these reasons may call someone to take part in an adventure to explore and discover Portugal. It is a place of beauty, art, creativity, and peace. All visitors are made to feel welcome, and may not want to leave when all is said and done.
Published in: News and Updates / Guide to Portugal