Portugal - the Best European Country for Retirement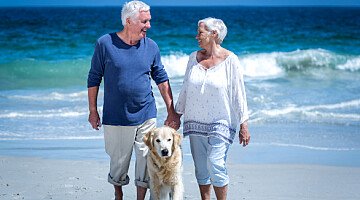 The website 'Moving to Spain' specialises in helping people who are about to move to Spain, no matter what stage of life they are at.
However, in their recent survey aimed at helping those in the 'golden years' of life, they reported that the best country in Europe to retire is in fact … Portugal!
Their methodology looked at eight factors to enable them to decide which European country was the best for retirees. They studied population, life expectancy, cost of living, house prices, visas, safety, beaches, and healthcare when deciding on the best retirement zones.
They voted Portugal as number one with a score of 7.83, followed in joint second position by Spain and Italy with 7.31.
The authors said "Based on our index, the best retirement country in Europe is Portugal, with a retirement score of 7.83 out of 10. Portugal is a safe country, with a high percentage of its population aged 65 and above. It offers plenty of sunshine, good-quality beaches, as well as a reasonably low cost of living. One of the many things Portugal is famous for is its wine and port. Add spectacular golf courses and wonderful scenery, and it is the complete package."
Read more of the report here.
Find out more about our beautiful golden sandy beaches, lush landscapes, and cities rich with history and culture, not to mention the tax-efficient non-habitual residence (NHR) scheme, where for 10 years a flat tax rate of 10% is applied to pensions from a foreign source and other payments from pension funds or similar.
BHHS Portugal Property is a multiple-award-winning agent - contact our team of knowledgeable and professional Property Advisors - hello@portugalproperty.com or call us on +351 308 800 878 or 0800 014 8201 free from the UK.
Published in: Guide to Portugal / Miscellaneous / Portugal Property / Portuguese Life