Portugal = orange!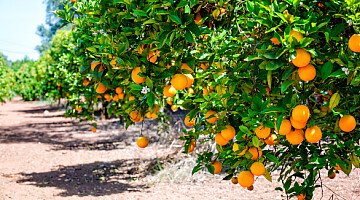 Published on
Visiting the Algarve, you can't fail to be impressed by the endless rows of orange trees with their bright orange orbs glowing in the sun and the street vendors selling bags of oranges for a few euros along the main roads. Algarve oranges have smooth skin, intense colour and juicy pulp - they are considered one of the juiciest in the world.
Originally oranges in Europe were a bitter fruit, with the sweet version brought over from China to Europe by Portuguese navigators in the 16th century during the Age of Discoveries. The first modern type of sweet orange tree was imported to Portugal in 1635.
The legacy behind it means that some countries named this fruit after Portugal, such as Romania 'portocale', Bulgaria and Turkey 'portakal' and Greece 'portokali'. In Arabic and Persian languages, the name 'Portugal' literally means 'orange'.
Even though orange production is spread all around the country, their taste is special when grown in the green Algarve hills. This is due to the characteristics of the ground, 300+ days a year of sun exposure and rarely any frost.
Over 70% of the national orange production is in the Algarve, often by small family-run farms still using traditional fertilisation practices and natural remedies to combat the diseases and insects that affect citrus fruits. In the Algarve, you will not see planes spraying pesticides… Perhaps this is why Algarvian oranges not only taste amazing, but their vitamin C can protect your cells from damage, help your body make collagen - a protein that heals wounds and gives you smoother skin, make it easier to absorb iron to fight anaemia, boost your immune system - your body's defence against germs, slow the advance of age-related macular degeneration (AMD) - a leading cause of vision loss, help fight cancer-causing free radicals and when you're feeling anxious, vitamin C can also lower your levels of the stress hormone cortisol and your blood pressure. What amazing health benefits!
Invest in a home surrounded by orange groves! Contact our knowledgeable team of Property Advisors here in the Algarve: email: hello@PortugalProperty.com or call us: +351 308 800 878 or 0800 014 8201 free from the UK.
Download our magazine 'At Home'
Berkshire Hathaway HomeServices Portugal Property www.PortugalProperty.com
Published in: Guide to Portugal / Miscellaneous / News and Updates / Portugal Property / Property / Property for sale in Portugal / Site News