Portugal – Clean and Safe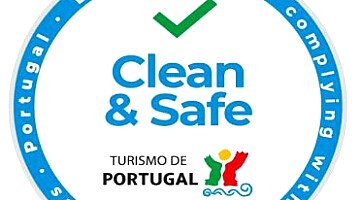 Portugal is the third most peaceful country in the world, according to the Global Peace Index 2019, it is also being held up as safe in other ways - as one of the countries that have handled the COVID-19 crisis well by keeping contagion low.

According to epidemiologists and experts, the key to Portugal's success has been the extra time the country had to prepare, as it was one of the last countries in Europe to record cases, a rapid response in tracing sources of infection, large-scale testing and the steady rehabilitation of the country's public health system by recently ramping up healthcare spending.

And now, to enable economic and social activity to resume, Turismo de Portugal has created a "Clean and Safe" stamp of approval to distinguish tourist activities which are compliant with hygiene and cleaning requirements for the prevention and control of COVID-19 and other possible infections.

From April 24, tourism enterprises, tourist entertainment companies and travel agencies have been able to request certification as a "Clean and Safe" establishment. After companies have submitted the Declaration of Commitment, they can publicise the "Clean and Safe" stamp, either physically on their premises or on their digital platforms.

The "Clean and Safe" stamp requires companies to implement internal protocols that conform with the highest standard of hygiene measures designed by the DGS - Directorate-General for Health. These avoid the risk of contagion and guarantee safe procedures. Turismo de Portugal will regularly carry out audits of establishments who belong to the "Clean and Safe" initiative, thus ensuring the measures are adhered to. 

This initiative reinforces the confidence of visitors as well as promoting Portugal as a safe destination.

So get ready to invest in your holiday home in Portugal! Contact our knowledgeable and professional team now to discuss your requirements and arrange viewings - info@portugalproperty.com or call us on +351 308 800 878 or 0800 014 8201 free from the UK.
Published in: Travel / Site news / Property for Sale in Portugal / Portuguese Life / Portugal Property / News and Updates / Guide to Portugal