Portugal – best in Europe for retirees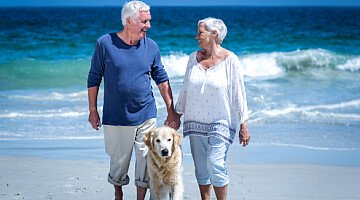 Published on
The 2022 Annual Global Retirement Index from 'International Living', has once again highlighted Portugal as a top destination for people from around the world to retire.
Portugal has been ranked as the best place in Europe and fourth in the world for retirees.
The Retirement Index is the most comprehensive and in-depth survey of its kind. The index, which has been produced for over 30 years, is informed by hundreds of opinions and real-life, on-the-ground experiences. They rank and score each of the 25 countries in the Index across the following 10 categories:
Housing, benefits and discounts, visas and residence, fitting in/entertainment, development, climate, healthcare, governance, opportunity and finally cost of living.
Portugal ranked highly across the board, but particularly in housing, benefits and discounts, healthcare, climate and fitting in/entertainment, finishing with a total score of 83.3 out of 100.
The only countries to rank higher than Portugal were Panama with a score of 86.1, Costa Rica with 85.1 and Mexico with 83.8. After Portugal, came Colombia ranking 5th then Ecuador, France, Malta, Spain and Uruguay.
The report also highlights the high level of English spoken across the country as English is taught in schools and the fact that cinemas offer movies in original languages with Portuguese subtitles.
The index takes into account reports from foreigners living in each country and according to the respondents "a couple can live comfortably, but not lavishly, on $2,500 per month in parts of Portugal, but if you want to live in Lisbon, Porto, Cascais or the Algarve, you should bump that number up to $3,000 or more".
But if you're not ready to retire, you can still live the dream life in Portugal as it has also just been ranked as the best place in the world to travel and work remotely in 2022, according to a survey by travel research website, Momondo.
Find out more about investing in Portugal property by contacting our knowledgeable and professional team of Property Advisors - info@portugalproperty.com or call us on +351 308 800 878 or 0800 014 8201 free from the UK.
Published in: News and Updates / Portugal Property / Press Releases / Property / Property for sale in Portugal / Site News