Magical Madeira!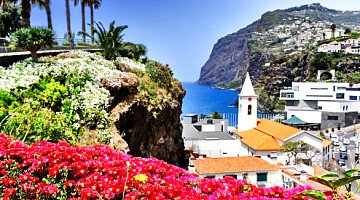 How much do you know about the island paradise of Madeira?
This tiny, remote Portuguese island with its unique, dramatic landscape, is in the middle of the Atlantic Ocean, west of Morocco and south of the Azores. The islands of Madeira and Porto Santo are a haven of natural beauty. The exotic colours of the flowers stand out from the azure blue sea and the emerald green vegetation; this is an archipelago where two-thirds of the area is protected.
The springtime temperature, felt all year round, cries out for open-air activities – no wonder it was the winner of 'Europe's Leading Island Destination 2020' at the World Travel Awards for its outdoor adventures. Here you can walk along the network of levadas (irrigation channels), visit the city of Funchal and discover the heritage associated with the Discoveries or roam freely around the island. Boat rides are a relaxing way of admiring the coastline from a different perspective.
Madeira is home to the largest surviving area of laurel forest, which is protected by UNESCO world heritage and is an eerie sight to behold. This part of the island is subtropical and the volcanic microclimates mean it is often shrouded in mist, giving one the feeling of being on a film set.
This is a destination rich in entertaining events, with a programme full of shows, festivals and exhibitions taking place all year round. There are numerous opportunities to appreciate traditional gastronomic flavours and see Madeira partying, especially for the Carnival parades, the Flower Festival, the Atlantic Festival and above all, the end-of-year fireworks display.
Madeira is also renowned for having some of the most welcoming locals in Europe. Even as a non-Portuguese speaker, it's easy to get around as most people speak English very well, due to the island's reliance on tourism.
Find out more about how easy it is to invest in Madeira – whether for a holiday home or the Golden Visa. Visit our NEW office in Funchal, or call our team of knowledgeable Property Advisors +351 308 800 878 or 0800 014 8201 free from the UK. Alternatively, email us - info@portugalproperty.com.
Published in: Guide to Portugal / News and Updates / Portugal Property / Property for sale in Portugal / Site News / Travel