Madeira aspires to be the 'Singapore of the Atlantic'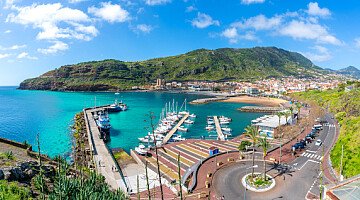 The beautiful island of Madeira – with its stunning scenery, incredible natural lava rock pools, striking cliffs overlooking the ocean and charm-filled towns – is it any wonder that Madeira is repeatedly considered the world's top island destination?
Well, now it has new aspirations!
The regional secretary for the Health of Madeira, Pedro Ramos, said recently that the region intends to be the 'Singapore of the Atlantic', arguing that this ambition "cannot be considered disproportionate".
At the opening of a room equipped with a 5G signal at Hospital Dr Nélio Mendonça in the capital Funchal, Mr Ramos said "I am more and more convinced that we are in that phase of development of Madeira that defines it as the 'singapurization' of the Atlantic".
The official pointed out that the region has about 250,000 inhabitants, while Singapore has six million, but he noted that Madeira is larger in terms of geographic area and noted that "those who knew Singapore 40, 50 years ago know that Singapore was not what it is now."
"Therefore, there is a path and this ambition cannot be considered disproportionate and can be achieved by all of us", he stressed.
"Madeira is a safe region for the whole world, healthy, where we will have the ambition to also create scientific poles, economic poles, financial poles and we want more people to come here".
Summarising some of the phases that Madeira has gone through over its 600 years of history, Pedro Ramos highlighted that currently, the region is in the digital transition phase, which will bring benefits to the health area.
The official also stressed that the new Central and University Hospital of Madeira "will be a reality within five to six years" and will be equipped with the 5G network.
However, he admitted that due to the war in Ukraine and Covid-19, "there will probably be some setbacks".
Find out all about investing in Madeira – especially as the whole island qualifies for the Golden Visa scheme.  Plus the Flower Festival is in full swing until 29th May!
Contact our knowledgeable team of Property Advisors: info@portugalproperty.com or call us on +351 308 800 878 or 0800 014 8201 free from the UK.
Published in: Business / Miscellaneous / News and Updates / Portugal Property / Property / Property for sale in Portugal / Site News