Love that Lisbon vibe!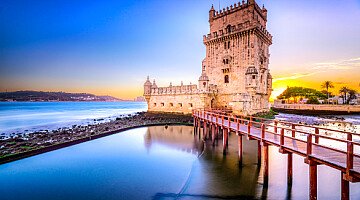 Lisbon
Steeped in culture and history with churches, forts and museums, Lisbon was first inhabited around 700 B.C. Lisbon is the second oldest capital city in Europe after Athens and it seems like every culture has lived here for a few centuries.
One of Europe's most beautiful and cosmopolitan cities, it's also the sunniest capital basking in 2,799 hours of sunshine - its extended summers keep the temperatures balmy right through until October.
Here are just a few reasons why tourists – and therefore property investors – love Lisbon:
Torre de Belem – Soaring high above the seafront of the Lisbon quays, this great tower has stood watch over the mouth of the Tagus River since its construction in the 16th century. It is perhaps the most iconic feature of the city.
Mercado da Ribeira – The 'Time Out' Mercado da Ribeira is a relatively new addition to Lisbon, opened in 2010 there are more than 30 small kiosks and restaurants - it's a great place to lunch with a fantastic, bustling atmosphere.
Tram 28 – Like San Francisco in the States, Lisbon is a city famed for its historic, rattling tram lines. None are more quintessential than Tram 28 which has climbed up the steep, cobbled roads and into the old Alfama district for decades.
Pastel de Belém – Often called pastel de nata – this is the original egg tart pastry first made in Lisbon, which was named by The Guardian as the "15th most-tasty delicacy in the world". A Lisbon must!
Drinks at "Pensão Amor" – This is a modern, cool and trendy bar over 3 storeys which was once a brothel! Located in the centre of Lisbon at Cais do Sodré neighbourhood, Pensão Amor means "Love Pension" – very quirky with a decidedly over 18's theme…!
Music at a Fado bar – Fado, Portugal's version of traditional folk music, was born in Lisbon and there are numerous fado restaurants. The recurring theme revolves around a word that is also an integral part of Portuguese culture: saudade. It signifies longing, love, loss and sadness in one powerful word.
Find out more about investing in Lisbon property by contacting our knowledgeable and professional team of Property Advisors - info@portugalproperty.com or call us on +351 308 800 878 or 0800 014 8201 free from the UK.
Published in: Travel / Site news / Property for Sale in Portugal / Property / Portuguese Life / News and Updates / Guide to Portugal