Lottery winner?!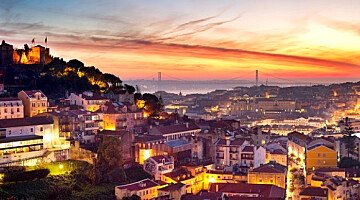 Lisbon
Published on
So, curious to know where Portugal's most expensive streets are? The top 10 have just been announced by property website Idealista. They analysed the average cost of houses where they had at least ten listings, to avoid 'distorting facts'.

According to their research, house prices increased 7.9% in Portugal in the first three months of the year compared to the same period last year, and that the "euphoria" regarding Portuguese real estate has reached the "luxury segment".

Heading the list is Lisbon's stylish Rua do Salitre, located in the heart of the Portuguese capital and where the average cost of a home is €2.9 million.

Ranked second is Avenida Brasil in Cascais at a cool €2.4 million – a former fishing town historically a favourite with the Portuguese nobility, and now an elegant blend of grand 19th century architecture, traditional Portuguese charm and outstanding tourist facilities. Just behind in third place is Fonte Santa at €2.4 million situated between the luxury golf and beach resort of Vale do Lobo and Quarteira in the Algarve.

Porto's Rua de Sobreiras is fourth on the list, with houses costing around €2 million.

Rua Fernão Mendes Pinto in Belém, Lisbon (€1.9 million), Rua Gazeta d'Oeiras in Oeiras (€1.7 million) and Rua Dom Afonso Henriques in Estoril (€1.7 million) follow, ahead of Lisbon's Rua António Saldanha and Porto's Avenida Marechal Gomes da Costa (€1.6 million).

The Algarve's luxurious Vale do Lobo rounds off the list with an average cost of €1.5 million.

But whilst house prices are on the rise, The Post Office in the UK looked at the cost of a basket of 10 everyday tourist staples - from lunch to evening meals, drinks to sun cream – in 19 European destinations.

Sunny Beach in Bulgaria was the most affordable resort at £37, but second best on the list was the Algarve at just over £58. Ibiza was the most expensive destination with the same goods at £131!
Published in: Building and Renovation / Business / Guide to Portugal / News and Updates / Portugal Property / Portuguese Life / Property / Property for sale in Portugal