Lisbon – The Coolest City in Europe
Published on 7th April, 2016 by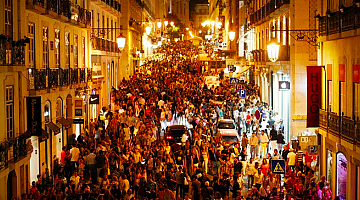 Lisbon, the city built on seven hills, has definitely had its troubles in the past, but all has been pretty quiet as of late, and the wayward visitor or discerning tourist will find plenty to love. From the fresh salt air, to the glorious sunshine that bathes the landscape, it's a piece of heaven on Earth, and perhaps the closest many of us will ever actually get to heaven. While Lisbon was definitely a well kept secret for many years, the secret is out and the tourism economy is doing better than ever. As the rest of the world begins to file in, the amazingness of Europe once again becomes more apparent.
The Land of Light
Okay, so the place might not actually be referred to as 'The Land of Light', but it might as well be. The seven hills upon which the city is situated have an amazing illumination, or should we say a natural amphitheater that reflects light from Tagus. The stone buildings, all painted with different colors, send the light around the hills, creating an incredible effect, ultimately making one believe they have left this world and are now residing in an astral realm of sorts. Of course, this just helps to reinforce the inherent belief that this is without a doubt the coolest city in Europe. While the lights themselves are definitely enough to draw people in, there's far more to it.
To put it lightly, Lisbon is beautiful, even without being the land of light. Not only is the architecture something to behold, visitors will find that the very attitude of the local people here is very laid back, and definitely not as 'angsty' as you might find in the rest of Europe. The entire city is rife with optimism and is without a doubt one of the best places to vacation if you are looking for a relaxing time.
A Look Around Town
Lisbon is home to some of the greatest architecture and landmarks in the world. A quick visit would allow you to see some of the most amazing sights including the Jeronimos monastery, the final resting place of Vasco da Gama. There are several other churches in the area, the Chapel of St John the Baptist and the Church of Sao Rogue. Additionally, it features an amazing skyline that you will not soon forget. Lisbon is a monument to the past and a testament to the future, flanked with neon lights and a night life you'll never forget. As you wander around the city during the day or the nighttime, you'll find plenty of restaurants, bars, and shops to hold your interest and give you a great story to tell when (if) you go home.
There was a time when much of the town was unused, or at least useless to visitors, but these areas have not only been reclaimed, they have been completely rejuvenated. Now, the city is filled with visitors who are seeing parts of the city that they had ignored previously, all of which contain bars, restaurants, clubs, and even galleries. Don't worry, you'll still find plenty of places to stay.
A Place to Stay
Lisbon has plenty of great places to stay, from the Hotel Valverde, to Pousada De Lisoba. If you're looking for something a bit more out of the way, you couldn't ask for much better than Pestana Palace, and if you need to save money, the Independente is a much better option with its cheap doubles under 100 euros. Of course, finding a place to stay in Lisbon is only a small part of the adventure. The nightlife, the shopping, the incredible landmarks, all of these play a part in your stay in this incredible place, but one thing that many people fail to consider is the cuisine.
A Bite to Eat
As you explore a place like Lisbon, you have to wonder what kind of cuisine you're going to find around the town. When you're traveling abroad, trying the food is without a doubt one of the most important things you can do. After all, there are some things out there, especially in Lisbon, that you'll never get a chance to try at home. There are plenty of great venues, such as the Belcanto, run by Chef Jose Avillez. Additionally, should you choose to stay at the Independente, you can take advantage of the traditional Portuguese restaurant, the Insolito, which is situated right upstairs. There's a lot to enjoy as far as food goes in Lisbon, and we've only scratched the surface.
In addition to food, you must also consider having a drink at the Terraco BA, right in the Bairro Alto hotel. Of course, if you're looking for something a bit lower scale, you might try your hand at finding the Casa Independente, which looks more like a thrift shop than a bar. Still, it's a great place for coffee in the afternoon, and something a bit stronger when evening rolls around.
What is the bottom line? You can't do too much better than Lisbon when it comes to a walk on the wild side combined with the laid back nature of a culture centuries in the making. Not only are you going to find it a great place to look at, you're going to discover that it is a land full of adventure, ready and willing to provide you with stories that you'll be able to tell your children and grandchildren for many years to come. You might just want to come back and visit it again one day, and in the end, your stories will probably influence someone else to pay their own visit.
Published in: Press Releases / News and Updates / Guide to Portugal