Lisbon – Europe's coolest city!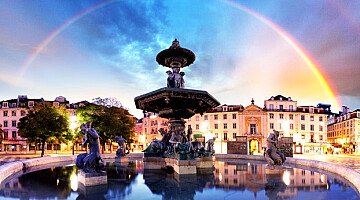 Lisbon
Lisbon a historical city full of stories to tell, where the sun shines for 290 days a year and the temperature rarely drops below 15'C. It's been the capital of Portugal since 1255 - centuries of turbulent times resulted in different rulers like the Romans and then the Moors but finally it was wrestled back into Portuguese hands where it remains the proud capital.

It was from Lisbon that most of the exploration caravels sailed and where most of the spices, mainly from India, were later sold to central Europe. So the city was always full of merchants from all over Europe, making it a cooking pot of races and cultures all bubbling together.

Lisbon was a very liberal city full with people of high intelligence and religious values and a place where there was very little racial and cultural prejudice. This cosmopolitan feel is still apparent today but over a much bigger expanse, with a few more people, a few more cars and a few less caravels.

The truth is that it is a big European city without being too big!  Built on seven hills Lisbon is all but monotonous; it swerves, it turns, it goes up, its goes down – thankfully its famous yellow trams help with the steep parts!

It is a city famous for its hospitality and the way it welcomes visitors, where you feel safe - day or night and where old customs mix comfortably with high-tech innovation.

Considered the World's Leading City Destination 2018 and the World's Leading City Break Destination 2018 by the World Travel Awards there couldn't be a better time to invest in property in Lisbon as PwC and the Urban Land Institute have predicted that it will be the top destination for property investment in 2019.
Published in: Travel / Site news / Property for Sale in Portugal / Portuguese Life / Portugal Property / News and Updates / Guide to Portugal