Let's go surfing NOW!
Published on 16th November, 2018 by Natalia Martins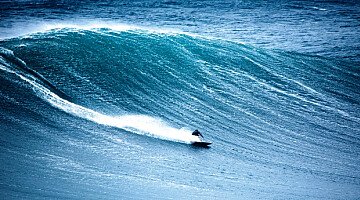 Portugal
So the crowds have gone, the water is warm and daytime temperatures still hit the high 20's. The trade winds drop off, and the swell starts kicking in. Come and surf in Portugal – it's a surfer's paradise!

There are around 300 surf schools registered at the Portuguese Surf Federation and with 600 miles (965km) of beaches – whether you're a beginner or an experienced surfer - you can pretty much catch waves of all sizes every day of the year.

Of course, Portugal is most famous for its temperate climate, excellent food and wines, stunning beaches, and warm hospitality, but these shores are blessed with super swell and good waves making it an idyllic surfing destination.

From late winter to early spring is the best time to catch wetsuit-clad surfers in the water. The summer's waves are smaller and less exciting for more experienced surfers, but they may be better for surfing newbies looking to dip their toes in the water and get on a board for the first time.

You can surf in pretty much every region of Portugal – from south to the north: Algarve, Alentejo, Lisbon, Ericeira, Peniche, Beira and Porto.

In fact, Portugal holds the Guinness World Record for the largest wave surfed. American-born surfer Garret McNamara rode a 78-foot (24m) wave off the coast of Nazaré, a small fishing village located less than two hours north of Lisbon. This giant wave spot was created by the 16,000-foot deep underwater Nazaré Canyon – its colossal waves are just perfect for extreme surfers!

So imagine being able to surf whenever you want to – there is no better time to invest in your very own Portuguese holiday home – and practice catching the waves!
Published in: Travel / Site news / Property for Sale in Portugal / Portuguese Life / Portugal Property / Guide to Portugal