Historic Porto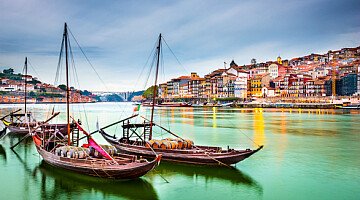 Perfect Porto!
Porto is a charismatic, world-renowned historic destination and its unique heritage and culture make it an ideal place to invest, work and live. Porto is also now a highly competitive business hub, it's a city of entrepreneurship, innovation and culture, which welcomes companies and talent from all over the world.
Hundreds of well-known international brands are choosing to set up business in Porto and because of this, we are seeing a growing number of enquiries from buyers wishing to invest in real estate in Porto. If you want to discover Portugal in its most authentic form, there is no better place. Here there are aristocratic residences, manors and castles scattered throughout the mountains and adjoining natural parklands.
It is one of the oldest cities in Europe dating back to the 4th century – the second-largest city in Portugal after Lisbon and is home to about 2 million people.
Due to its ancient architectural marvels and its strategic location at the Douro River Estuary, Porto was registered as a World Heritage Site by UNESCO in 1996. The city oozes charm – renowned for the majestic Douro Valley with well-tended vines tumbling down verdant hillsides to the Douro River and stunning Atlantic beaches which are just a 15-minute drive away.
For those concerned about the weather, the climate in Porto is primarily Mediterranean with warm, dry summers and mild, showery winters.
But let's not forget the ultimate delicious, fortified wine - port! Named after the city and known for decades as the 'Englishman's wine' – what better place to sample the finest port wines of ruby, tawny and white than in its home. Sip from a tulip-shaped glass to ensure full appreciation of this wine.
And as if you need further reasons to invest in Porto, it also tops the list of English speakers among Portuguese cities, in fact, according to the EF English Proficiency Index, Portugal ranks seventh place among the most proficient English speakers in the world.
Find out more about how easy it is to invest in Porto. Contact our knowledgeable and experienced team of Property Advisors: info@portugalproperty.com or call us on +351 308 800 878 or 0800 014 8201 free from the UK.
Published in: Travel / Site news / Property for Sale in Portugal / Portuguese Life / News and Updates / Guide to Portugal