Get in on the Porto property boom!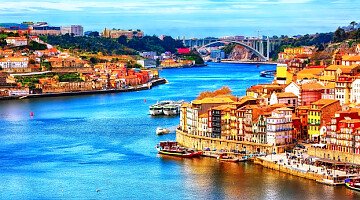 Porto
With the increase in low cost flights and the development and urban regeneration of the bay of Porto, tourists and investors alike are seeing this historic destination's potential as a great alternative to property in Lisbon. Especially considering property can be less expensive, but generate great rental revenues and thus a higher yield.

Market data indicates Porto, the country's second-largest city, will see even greater price appreciation this year as new buyer enquiries increase to record levels. With hundreds of well-known international brands choosing to set up business here, what is it about Porto?
 
1. It is one of the oldest cities in Europe dating back to the 4th century – it's the second largest city in Portugal after Lisbon and is home to about 2 million people.

2. Porto was registered as a World Heritage Site by UNESCO in 1996 due to its ancient architectural marvels and its strategic location at the Duoro River Estuary.

3. Porto's climate is primarily Mediterranean with warm, dry summers and mild, showery winters.

4. It's a cultural centre renowned for festivals and authentic Portuguese culture and hospitality.

5. Port! Named after the city and known for decades as the 'Englishman's wine' you can hire a local tour guide to take you wine tasting and sample the finest port wines – ruby, tawny and white – in a tulip shaped glass to ensure full appreciation of the wine.

The ancient city of Porto oozes charm – renowned for the majestic Douro Valley with well-tended vines tumbling down verdant hillsides to the Douro River and stunning Atlantic beaches just a 15-minute drive away. Come and find out for yourself why there is so much interest in investment in Porto – visit PortugalProperty.com's NEW offices in Porto!
Published in: Business / Guide to Portugal / Money / News and Updates / Portugal Property / Portuguese Life / Property for sale in Portugal / Travel