Faro and Funchal - in top 3 for European air quality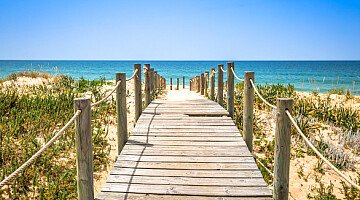 Published on
Policies to reduce air pollution have led to improved air quality across Europe over the last three decades. However, in some European cities, air pollution still poses considerable health risks.
Studies have shown that air pollution is related to worsening asthma symptoms and can trigger asthma attacks, especially in children.
So if you are looking to invest or relocate to a cleaner city, then the latest report published by European Environment Agency (EEA) makes for fascinating reading.
Over 340 cities are included in the European city air quality viewer. Cities are ranked from the cleanest to the most polluted based on average levels of fine particulate matter (PM2.5). The data behind the ranking was collected from over 400 monitoring stations across EEA member countries over the past two calendar years.
The cleanest cities in Europe in terms of air quality during 2020 and 2021 were Umeå in Sweden and Faro and Funchal in Portugal.
From 2020 to 2021, air quality was good in only 11 cities, meaning that levels of PM2.5 were below the World Health Organization's (WHO) health-based guideline for long-term exposure to PM2.5 of 5 micrograms per cubic meter of air (5 μg/m3). The guideline was exceeded in 97% of the 343 European cities included in the viewer.
In contrast, the European Union's (EU) annual limit value for PM2.5 of 25 µg/m3 was only exceeded in the three most polluted cities, including Nowy Sacz, Poland and Cremona and Padova in Italy, highlighting the difference between the WHO guideline and the EU standard.
Read the full report here then let us help you discover how to invest in property in Faro, Funchal or anywhere in Portugal! Contact our knowledgeable team of Property Advisors: email: hello@PortugalProperty.com or call us: +351 308 800 878 or 0800 014 8201 free from the UK.
Download our magazine 'At Home'
Berkshire Hathaway HomeServices Portugal Property www.PortugalProperty.com
Published in: Health / Miscellaneous / News and Updates / Portugal Property / Property / Property for sale in Portugal / Site News