Come on over!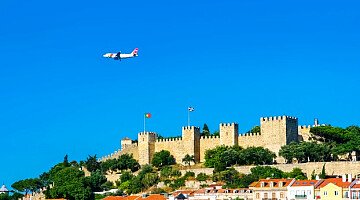 Portugal
A privately chartered jet is probably the most luxurious and personalised way to get to Portugal, with three major international airports, Porto, Lisbon and Faro serving the Algarve and a further seventeen smaller airports should you wish to take that private jet!

But not all of us want to spend our money on a flight that, for most of Europe, is less than a three hour trip!

So it is interesting to note that Irish budget airline Ryanair is investing around €100 million on creating 12 new routes in Portugal this summer from all of its national bases.

The 12 new routes are to Bordeaux, Clermont and Edinburgh (from Lisbon); to Alicante, Brive, Cagliari, Marrakech and Seville (from Porto), and Berlin, Milan Bergamo and London Southend from Faro.

The airline will also be increasing flights on a number of existing routes at all airports – for a total of 129 routes and 11 million passengers a year.

In fact, travel to and around Portugal has never been easier with trains amongst the least expensive in Europe and new motorways spanning north to south and east to west making it easy to navigate on uncongested roads – even in the summer.

So come on over and experience our warm winter days – with nearly 2,000 properties for sale on our website and even more on our off market database - we are well equipped to show you the best selection of property throughout Portugal.
Published in: Business / Guide to Portugal / News and Updates / Portugal Property / Portuguese Life / Property for sale in Portugal / Site News / Travel