Biggest waves in the world!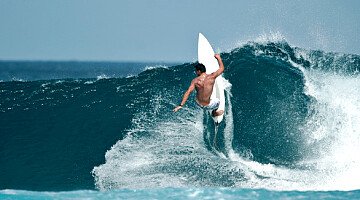 From October to March is Big-Wave season in Nazaré, the quaint fishing village on the Silver Coast of Portugal. Most of the renowned Big-Wave surf spots are off remote islands in the middle of the ocean. But Praia do Norte is right by the shore, with the Fort of São Miguel Arcanjo and the stubby red lighthouse providing a natural grandstand.

The season is unfortunately different at the moment, with surfing temporarily banned due to the virus. Normally, Nazaré is renowned as a giant wave spot which was created by a 4,876-metre deep underwater canyon – its colossal waves are just perfect for extreme surfers as the waves swell to the size of large buildings! The deadly waters were originally considered too dangerous for local surfers until an American named Garrett McNamara couldn't resist the pull of the monster waves. In 2011, he set a world record by riding a wave that measured 23.7 metres. The record stood for seven years until, in May 2018, Brazilian Rodrigo Koxa surfed a wave that officially measured 24.3 metres.

The Silver Coast is compared by many to the Algarve of thirty years ago and is now attracting a wealth of investment with leading developers and hotel operators such as Hilton, Campo Real and Marriot in the area. There are brand new shopping centres and international schools providing relocation options as well as supporting the tourism industry.

São Martinho do Porto, just ten minutes south of Nazaré is quieter and geared up for younger families or those seeking beauty with peace and quiet. It has a unique horseshoe bay which is protected from the Atlantic allowing the bays waters to be warmer and gentler.

The whole coast has sandy beaches everywhere you look and is very popular with surfers! One of the other sporting options is golf with the resorts of Praia del Rey, just south of Nazaré and São Martinho do Porto.

To find out more about investing in the Silver Coast, contact our team of knowledgeable Property Advisors - info@portugalproperty.com or call us on +351 308 800 878 or 0800 014 8201 free from the UK.
Published in: Travel / Site news / Property for Sale in Portugal / Portuguese Life / Portugal Property / News and Updates / Guide to Portugal