Are you a twitcher?!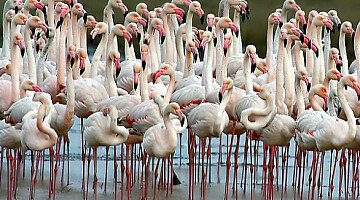 Portugal has so much to offer – glorious golden sandy beaches, a rich cultural background, amazing weather, top gastronomy, water sports etc. But many visitors and residents alike are completely unaware that some of the most sought-after species of birds can be seen here.

Despite its relatively small size in terms of territory, it is regarded as one of the prime destinations for bird watching in Europe due to its excellent concentration of different habitats.

This richness and variety attracts a diverse range of species, with around 330 visiting here regularly, some of which are endemic to the Iberian Peninsula.

On a short car trip, you can get from the estuaries and other wetlands to the steep river valleys, or from cork oak forests to the coast. In the estuary of the River Tejo alone, which is just 20 minutes from Lisbon, it is fairly easy to see over 100 species of birds in a single day!

Some of the best places to watch birds are in the protected areas, which occupy 21% of the national territory. In the north, you can take a cruise on the Douro Internacional Park to enjoy the beauty of the cliffs where the Egyptian vulture and Bonelli's eagle make their nests, on the Tejo Internacional Park walking or cycling tours are a good option to see the black stork or griffon vulture perched on the fossil covered rocks.

Near Lisbon, the Tejo and Sado estuaries boast a great wealth of species and enormous flocks of flamingos and spoonbills are a common sight, colouring the salt pans and marshes.

In the Algarve, the Ria Formosa and Sapal de Castro Marim are two very important wetlands sought out by numerous water birds. The Algarve is the region with the greatest diversity of avian species – in total, about 400 different types of birds have been observed within the region's boundaries, including the famous storks which build huge armchair nests on tall chimneys.

Whatever your hobby Portugal has something for you, imagine taking in the breath-taking landscapes while following a flight of birds across an almost always clear blue sky.

Find out more about investing in a home in Portugal, contact our team of experienced and knowledgeable Property Advisors: info@portugalproperty.com or call us on +351 308 800 878 or 0800 014 8201 free from the UK.
Published in: Site news / Property for Sale in Portugal / Portuguese Life / Portugal Property / News and Updates / Guide to Portugal