All year round Algarve!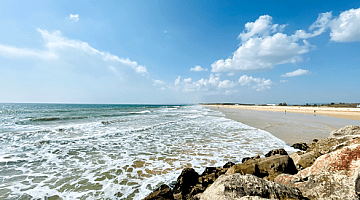 Picture source: Hannah Wood
With the clocks going back at the weekend, northern Europe is starting to feel chilly and Autumnal.
And yet, here in the Algarve, it's still a delightfully balmy 25ºC!
The Algarve is not just a summer destination. Boasting a vast array of natural attractions, the Algarve's authentic charm wins over residents and visitors alike. The enchanting coast is lined with long, golden sandy beaches overlooking azure waters dotted with modern towns and cities; and inland, there are pretty, welcoming villages waiting to be discovered. From the sophisticated coastal resorts to the old country trails through quaint villages, along roads that wind their way through abundant nature and forests, or open up onto wide valleys and hills, there are endless opportunities in this sunny region for unforgettable outings at any time of year. With diverse natural landscapes, golf, delicious food and wine and a wealth of history and culture, there is so much to do!
And with 300 days of sunshine a year, you can enjoy a virtually daily dose of health-giving Vitamin D!
One of the most adventurous ways to discover the Algarve is by bike. The Algarve has four major walking and biking routes that are interconnected: Rota Vicentina, Via Algarviana, Grande Rota do Guadiana and Ecovia do Litoral. Here you will find well-signposted routes for cycle tourism and walking enthusiasts alike as well as equipment hire and organised programmes. If you would rather not exert quite so much energy cycling, then try hiring a Segway - still on two wheels but the electric motor will do the work for you!
Whatever you chose to do out of season, the Algarve has so much to offer - the region has just been hailed as 'Europe's Leading Beach Destination' for the 8th time, from the tourism 'Oscars' - the World Travel Awards.
It's also a perfect time to view properties in a cooler, calmer environment. Find out more about investing in the Algarve - contact our team of knowledgeable property experts: info@portugalproperty.com or call us on +351 308 800 878 or 0800 014 8201 free from the UK.
Published in: Travel / Site news / Property for Sale in Portugal / Property / Portuguese Life / Portugal Property / News and Updates / Guide to Portugal