"Algarve Exportador" To Establish Algarve's Name in International Gourmet Markets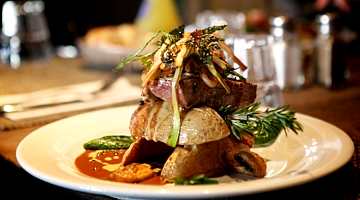 Algarve Gourmet Food
The Algarve is going to be a hit at all the international gourmet fairs. Algarve is known for quite a number of things, and soon gourmet foods and Algarve are going to be mentioned more and more in the same breath. "Algarve Exportador" hopes to play a very large role in this process.
Algarve Exportador hopes to be a hot new successful project that is going to highlight the very best selections boasting the "made in Algarve" moniker.
"Made in Algarve" are words that are going to appear more frequently at international markets, and this should lead to a lot of interest in Portugal's fine foods. A solid amount of backing is boosting the success potential of the Algarve Exportador strategy. ACRAL, a retail association in Algarve, is running the proverbial show. So far, things do look like they are moving along successfully.
Since the quality of the product is so high, Algarve foods should not have much trouble achieving international acclaim. Of course, in order to receive acclaim, the products produced in Algarve do have to be noticed. ACRAL is working hard to make sure that vaunted attention is received.
ACRAL has recently been speaking highly - and helpfully promoting - a new artisanal business recently. Laranjas do Algarve has created a Portugeuse version of Italy's limoncello. Limoncello is the highly-popular Italian tipple. In 1990, tipple did lead to a nice economic upswing in the region it was created and, eventually, exported. Laranjas do Algarve, a business started by two women native to Portugal, has crafted the perfect domestic version of limoncello. The Laranjas do Algarve might end up being a huge success.
There are environmental, argicultural, and economic benefits Laranjas Do Algarve have delivered. Ana Cerqueira and Isabel Bensaúde, the two women behind the business, felt far too many oranges in Algarve were being wasted annually.
Rather than see the oranges be thrown away, the fruit was harvested and used to produce a 30 proof Orangea Liquor. The new release turned out to be a massive hit with the public. In the first year the liquor was released on the market, 5,000 bottles ended up being sold. In the second year, 15,000 bottles are on track to being sold.
The president of ACRAL, Vítor Guerreiro, has publicly commented that the "excellent product" is one that is sure to be a huge export success. The oranges from Algarve are among the very best in the world, and they are definitely not going to waste once they are used to make the outstanding liquor being exported. Exports are sure to grow, and the good reputation of beverages produced in Algarve is sure to increase.
Take this as one more component in the overall process of greatly increasing Algarve's reputation as a gourmet provider. A great many other products are soon to gain acclaim in export circles. Algarve is sure to gain a perfect reputation in international gourmet circles - as planned.
Published in: Portuguese Life / Miscellaneous