A dream home by the sea…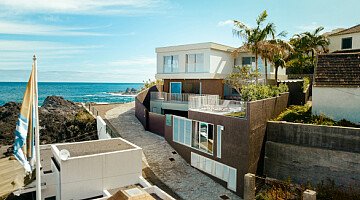 This villa is in Porto Moniz, Madeira, right by the beach and because of its privileged location, you can take a dip in the ocean or enjoy a natural swimming pool nearby. The construction is mainly oriented to the west, allowing beautiful views of the sunset over the sea.
The villa has three floors, with access available via elevator or stairs. On the first floor, there is a closed garage with space for two cars, including charging for electric cars. In addition, we find a leisure area, a SPA with a heated indoor pool and jacuzzi, with a natural basalt stone wall and stunning sea views. There is also a support bar, a relaxation area, a dining area, a cinema room, changing rooms, laundry, and a small garden to support the SPA.
The technical areas of the pool and villa are accessible from the outside, facilitating access for maintenance. On the upper floor are the social areas, including the living room, dining room and open-concept kitchen, with a wine cellar directed to the dining area that divides the environment between the living room. The kitchen is spacious and has a support island for meal preparation. All rooms of the house have air conditioning and sea views.
The top floor consists of an office and three suites, one of which has a dressing room and a private balcony. Outside, there is a leisure area with a garden and a barbecue.
The villa's location allows you to enjoy walks along the seafront promenade, which is right next to the house. This property is ideal for those who seek tranquillity and want to hear the melody of the sea and smell the sea air.
In short, it is a unique opportunity for those who dream of living by the sea and enjoying all the advantages that this location can offer.
Contact our knowledgeable and professional team of Property Advisors at Berkshire Hathaway HomeServices Portugal Property – part of one of the world's most trusted and respected corporations. Telephone +351 308 800 878 or 0800 014 8201 free from the UK. Alternatively, email us at hello@portugalproperty.com.
Published in: Guide to Portugal / Miscellaneous / Portugal Property / Portuguese Life / Property / Property for sale in Portugal