Maya De Filippo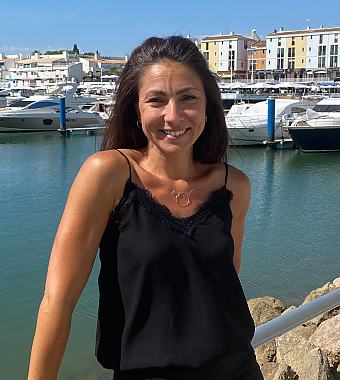 Realtor - Algarve Region
 Background
French-born from the South of France, I caught the travel bug at a young age and have been living abroad for close to twenty years. My studies and professional life took me to the UK, Poland, China, Switzerland, Morocco and we settled in Portugal with my husband and daughter a year ago.
I have a Masters degree in Business Administration and I have worked in retail, insurance, chambers of commerce, security and medical services, sports (The International Olympic Committee), mining, and strategic consulting. I had the opportunity to work for big companies, start-ups, and for myself. After moving to Portugal I wanted to work in an
industry I am passionate about. I have always had a keen interest in real estate and for the last several years have been educating myself on; property investments, understanding markets, and seeing the potential in properties.
What do you like most about Portugal?
Aside from the obvious great things about Portugal such as the welcoming people, the culture and the weather, I think Portugal is a very attractive country for our current times and moving forward because it offers forward thinking, friendly tax breaks, such as; Golden Visa, NHR, Green visa and tax free crypto profits whilst being a European country with great travel links and amazing quality of life. It offers a diverse range of lifestyles to suit all and, for my family and I, we decided to settle in the East Algarve.
Oh and I love Pastéis de Nata and have set it upon myself to find the best one in the Algarve!
Why do I like working for BHHS PP?
When I decided that now was a great time to turn a personal interest into a career, I wanted to find the best company out there that would allow me to learn, grow and give me the tools to be successful. BHHS PP ticks all the boxes: they endeavor to be the best in what they are doing, outperforming the competition by offering an innovating approach. The cherry on the cake is that the team is fun to work with. I am very excited and look forward to finding great properties for my clients and help them achieve their goals.
What do you like to do when you're not working?
  I live by the following say from Aldous Huxley 
« Happiness is not achieved by the conscious pursuit of happiness; it is generally the by-product of other activities ». So, I enjoy discovering new things, whether it is people, places, a new hobby, or educating myself on a new topic. I practice several outdoor activities and sports and I am a fitness and wellness enthusiast. I pour my creativity into fashion design and love to create clothing. This is a passion of mine I share with my daughter. I have a keen interest in crypto trading and all things investment-related. I am actively learning Portuguese but still need to work on my pronunciation.