Bolo Rei Portuguese Kings Cake – A Treat for Your Christmas Table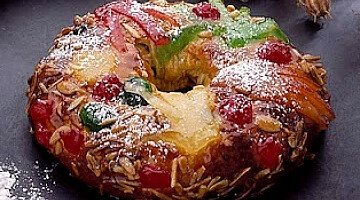 Bolo Rei Portuguese Kings Cake
Comforting and homey but at the same time exotic enough to make this year's holiday meal just a little more special, the Bolo Rei Portuguese Kings Cake is a delicious mix of hearty white dough, crunchy nuts and raisins and sweet crystallized fruit.
This tasty seasonal treat is traditionally served from Christmas Day on December 25th until the Day of the Kings, or Dias de Reis, on January 6th. Bolo Rei's perfectly round shape is itself a reference to the biblical Three Kings, the three wise men from the East who traveled by the legendary light of the Star of Bethlehem to the birthplace of Jesus Christ. With its meaningful history, rich taste and mouth-watering aroma, the Bolo Rei Portuguese Kings Cake makes the perfect addition to any holiday meal.
Ingredient List
The Yeast Mixture:
Active yeast (25 grams)
Granulated sugar (2 teaspoons)
All-purpose flour (100 grams)
Warm water (75 milliliters)

The Dough :
Seedless raisins (100 grams)
Lemon rind (1 teaspoon, finely grated)
Orange rind (1 teaspoon, finely grated)
Assorted crystallized fruit (250 grams, finely chopped)
Port wine (2 tablespoons)
Rum (1 tablespoon)
Butter (150 grams)
Granulated sugar (150 grams)
All-purpose wheat flour (600 grams)
5 eggs (3 whole eggs, 2 egg yolks)
Warm milk (75 milliliters)
Pine nuts (25 grams)
Almonds (50 grams, chopped)
Walnuts (50 grams, chopped)

The Topping:
Egg
Assorted crystallized fruit
Powdered Sugar

Supply List
3 bowls (2 small or medium bowls, 1 large)
Knife
Table spoon
Electric Mixer
Greased baking tray
Wide round jar or bottle (for the hole in the middle)
Vegetable oil (needed if jar is used for shaping the dough)

Steps
1. Put yeast, flour and granulated sugar into a small or medium-sized bowl and pour in warm water. Mix all ingredients together. Be careful with the amount of warm water you add. It should be just enough to make a smooth and soft dough form. You can start by pouring in a little and adding more if you need to. You'll need approximately 75 milliliters or .317 cup. After you are done thoroughly mixing the ingredients, cover the bowl and put it in a warm place until the yeast rises. You should wait until the yeast doubles in size, which should take about half an hour.
2. Use another small or medium-sized bowl to begin working on the dough. You can get started while you wait for the yeast to rise. Add in your finely grated orange and lemon rinds, port wine, raisins and rum. Chop up your crystallized fruit and add that in as well. You can use any fruit of your choice. Let the mixture sit, so the fruit can soak up the liquid and soften.
3. Use an electric mixer to beat sugar and butter together in a separate big bowl. Wait until all the clumps are out and the mixture is silky smooth. Then slowly add in your eggs and egg yolks. When you see the mixture begin to curdle, throw in a pinch of flour. Slowly beat in half of your milk and flour using a table spoon.
4. Check on your yeast mixture. If it's ready, added in to your dough. Make sure that all ingredients are evenly mixed.
5. Add your crystalized fruit mix to the dough along with three servings of finely chopped walnuts, almonds and pine nuts.
6. Slowly mix in the remaining half of your flour into the bowl until the dough has a bread-like texture that lightly sticks to your fingers. Besides mixing in the flour, make sure that the other ingredients like the nuts, raisins and crystallized fruit mixture are evenly dispersed throughout the dough.
7. Cover the bowl, and place it in a warm place until it doubles in size. This should take about an hour, but exact timing can vary, so keep a close eye on your progress.
8. After the dough is ready, take it out and knead it with your fingers for a minute or two. Use your hands to shape into a round loaf, place it on a greased tray and make a hole in the middle, so that it resembles a crown or a round wreath. You can use a vegetable oil-greased jar or another round container to hold the shape of the hole until you finish working on the cake's icing.
9. Decorate the cake with pieces of crystallized fruit. Make the icing by beating an egg and brushing it on over the cake and the fruit topping. Cover it and wait for it to double in size in approximately one hour. If you are using a round container to hold the shape of the hole, take it back out of the dough before baking
10. Preheat your oven to 374F or 190C. Bake your cake in the oven for about 40 minutes until it looks golden brown in color. Take it out and decorate with powdered sugar.

Serving Tips
In many households, the Bolo Rei cake is served with a small prize or coin and a broad fava bean on the inside, symbols for the gifts of the Magi. If you want to include a special surprise in your own version, wrap it in grease-proof paper and push it into the side of the cake before you add on the topping. Be careful if you have young children who can accidentally swallow the coin or any other small trinket you decide to put into the dough. Serve the finished cake on a tray or a decorative plate at the end of your holiday meal. Bolo Rei also makes great holiday party favors. Cut yours up into smaller pieces and wrap them individually to give your guests a tasty take-home treat.
---
http://www.portugalproperty.com - property in Portugal with Portugal's largest real estate agency - If you love Portugal you will love Portugal Property. Contact the team via email at: info@portugalproperty.com or call free now on +44 (0) 800 014 8201
Published in: Travel / Site news / Portuguese Life / Guide to Portugal