Portugal's Algarve Has Shown Significant Growth in 2016
Published on 12th April, 2016 by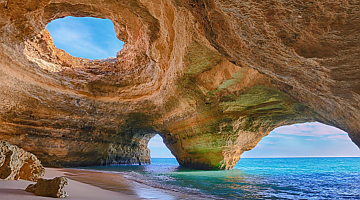 Beautiful Algarve
The Algarve, located in the southernmost section of beautiful Portugal is experiencing a population & property boom. In addition to becoming an elite tourist destination, this region has also seen a spike in home sales, and rentals. Businesses have even reported a surge in customers, and hotels have begun to have year round booking, when they were once closed during the winter.
This increase in growth can be linked to the sudden interest the world is showing in Portugal. Visitors from around the world are flocking here for the breathtaking scenery, intriguing cuisine, and discovering it is one of the best places to live.
Proof of this increase in popularity can be found in the Easter season. The month of March is typically too early for the beach. Still, the hotel room bookings this time of year increased by an impressive 5% over years past. Reservations for the summer are already 30% higher than they have been in previous years. In fact, many reservations for the summer started to book in November. That means those who want to experience Algarve and the best of Portugal really need to consider booking now.
Even the smaller hotels who shut down from late November until the summer season have remained open. Others who still closed for the winter shortened their duration. The demand is just too high for the area now, so these hotels are having to change their schedules, in order to keep up with the growing tourism demand in the area.
Of course, other worldwide factors are also driving people to Portugal. While the area wasn't as big of a draw as places like Turkey, Tunisia and even Egypt in the past, terrorism in those areas have caused major tour companies to branch out and explore new destinations for guests to holiday. Algarve just happened to be one of the most inviting of all places in Portugal and because of that, guests are embracing the long history and the natural beauty of the area.
Sandy beaches stress out along the crystal blue waters here. While in the area places like Vilamoura and Lagos are both exceptional destinations where people can still see more of what is happening in the area. Thanks to their ability to travel more of beautiful Portugal, those who visit can continue to explore and discover there is a world of possibilities found in this incredible country.
Beyond their holidays, people are looking to live here. Even during the slower months like March to May and October to December, this location is giving those who travel here something they can't find anywhere else in the area. It is during this time, the mild winters are inspiring people to consider it as a great place to live, when compared to other locations in the area where people deal with heavy snow and extreme cold temperatures.
This draw has already started to impact the real estate market. Reports have come out to suggest that the real estate found in the Algarve is most certainly on the rise. In fact, those who visit on Algarve who simply want to rent a home are paying 20% to 25% more than they would have in the past. When events like the Vilamoura Atlantic Tour that features the horse riding competition occurs, more people find that they are drawn to the area and are buying homes so they too can call this area home.
While this is good news for the real estate industry, it can be problematic for the hotel industry. Those who plan on summering in the area will have a place where they can stay. However, their passionate praise for this section of Portugal will help in aiding to bring in new people to the area.
At this point, it would appear that Portugal and the Algarve are set to continue to experience a population & property boom for some years to come. This will have a positive impact on the economy and will help to welcome new residents that are interested in calling this Mediterranean destination home.
Published in: Press Releases / Portugal Property / Guide to Portugal