Freehold hotel suites - spectacular location - guaranteed 7% return
Published on 4th October, 2018 by Natalia Martins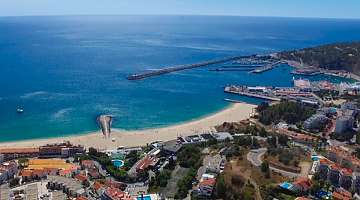 Sesimbra
PortugalProperty.com are very pleased to offer a unique investment with a guaranteed 7% return.

This wonderful hotel style development is already built in Sesimbra, a coastal location with spectacular views just a 40 minute drive from central Lisbon and 50 minutes to Lisbon Airport.

Ready for use at the end of this year, you have the opportunity to purchase one of 207 newly renovated freehold hotel suites in 4 blocks featuring:

• Restaurant and Bar

• Event Room with catering facilities

• Pool and exterior lounge

• Spa with Pool/Jacuzzi, Turkish bath, Massage and Sauna

• Health Club

• Kids' Club

• Hairdresser

• Car Parking

There is an exceptional investors' package with above average guaranteed rental yield and optional 5-year buyback scheme for 100% of the purchase price – these are ideal €350k & €500k Golden Visa options.

The investors' package allows you to enjoy 14 days use per year with a guaranteed 7% yield and the possibility of 10% return dependent upon the occupancy rates. Full bank guarantee on your investment by Millenium bank. 

Also ZERO purchase, sale, deed and acquisition costs along with no maintenance or condominium fees for up to 15 years – which saves approximately €6,000 per annum.

This stunning resort is in the idyllic paradise of Sesimbra, with beautiful beaches, fabulous views over the Atlantic Ocean and close to the Serra da Arrábida Natural Park.
Published in: Travel / Property for Sale in Portugal / Property / Portuguese Life / Portugal Property / News and Updates / Guide to Portugal / Business / Building and Renovation