Monica Cozacenco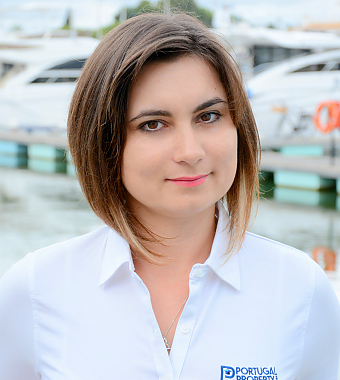 Executive Assistant
Background
Monica is the spine of the organisation. Based in the Head Office she plays an active role in listing properties, dealing with legal formalities and managing the whole Aftersales section. Having settled here in 2007, with her family, she concluded her university degree in translation. A valuable member of the team who can only speak French, Moldovan, Russian, Romanian, Portuguese and English!
What do you like most about Portugal?
What I like most about Portugal is its gastronomy, weather and beaches. Garlic prawns, pastel de natas, Algarvian steak with clams, golden honey port wine, creme catalana dessert, cherry ginja liqueur; these are just a few of the Portuguese delicacies that make my taste buds tingle and my mouth go watery and believe me the list could go on and on. And on top of that I get 300 days of sun per year and the most fantastic beaches. For me nothing can compare to a long sunny day playing volleyball or a games of cards on the beach with friends and family while my skin turns to chocolate.
Why do you like working for PortugalProperty.com?
I love working for PortugalProperty because every day I learn something new, be it about people and business or types of alarm system and solar panels or be it the price of keeping a boat in a berth on the marina. My job includes the most diverse tasks and responsibilities. Working for PP is a challenge and I love it. It is about meeting new people and bonding and building relationships and being part of a team that is growing daily.
What do you like to do when you are not working?
When I´m not working, I would probably read a good book, lazily sipping a tasteful caipirinha or morangoska with my feet dangling the pool. Other days I could go cycling or build up a sweat in the capoeira fitness class and boost my energy level for the day! I can go for a picnic in one of the natural parks, watching the birds and admiring the wild flowers. When I am feeling lazy I can sleep all day and then join my friends and boyfriend for a dancing night at a foam party. Be it day or night, slow or energetic there is always something to do here.