Lorraine Hodges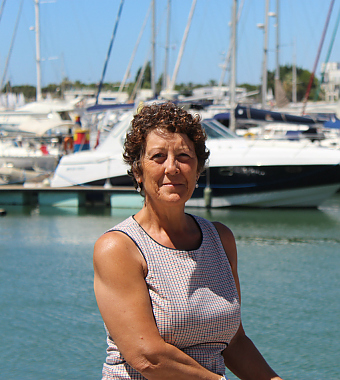 Realtor - Algarve Region
Background
It may sound like some story from a film you will know! but yes I did come to Vilamoura on holiday back in February 1995, met a singer! yes a singer fell hook line and sinker and moved permanently to Vilamoura 2 months later. Being single with no dependents enabled me to move very quickly, find work in the tourism industry and put down some foundations for a long life in the Algarve. Every day I would thank my lucky stars to be in such an amazing place, having come from the north of England what a drastic lifestyle change. 23 years later, one husband, (yes the singer!), 2 dogs, 1 cat and several house moves I have lived my adult life more years in the Algarve than I did in UK, its home its where my heart is and I have no intention of moving.
What do you like most about Portugal?
Well considering that I met my husband of 17 years here in the Algarve I have to say he is what I love most about Portugal! but seriously the Portuguese are so friendly with open hearts ready to welcome new visitors and residents with a "bejinho" (kiss on both cheeks). Their hospitality is unlike any people in any other country ready to offer a chair at their dinner table or coffee at the local cafe. Portugal is well known for its weather too, I love the all year round sun, even in the winter months you will find sunny warm days enabling an active outdoor lifestyle. I like that it is a safe and an affordable country that still retains many old ways and close family attitudes that sometimes gets lost with modern fast passed living.
Why do you like working with Berkshire Hathaway HomeServices Portugal Property?
I love to work with people. I am a sociable person and with Berkshire Hathaway HomeServices Portugal Property I meet so many new and wonderful people, vendors maybe seeking to downsize or relocate nearer to town or new clients looking to either relocate entirely to Portugal or find a that dream holiday home in the sun What could be better? I also like the camaraderie, within the office there is an excellent team spirit with supportive colleagues within a professional company.

What do you like to do when you are not working?
I love to walk, explore the Algarve countryside, being fortunate enough to live in a rural community I can cycle and walk on the many tracks in the hills! Not forgetting my two little terrors! dogs that is, they often come along sniffing out the odd rabit along the way. Dining out is a passion and there aren't too many restaurants I haven't tried in the East Algarve (happy to give recommendations). I love to entertain at home, having friends round regularly for our infamous BBQs. Property and renovating is also a passion and I'm at my happiest when around old or new houses and property projects.