Jessica Piessens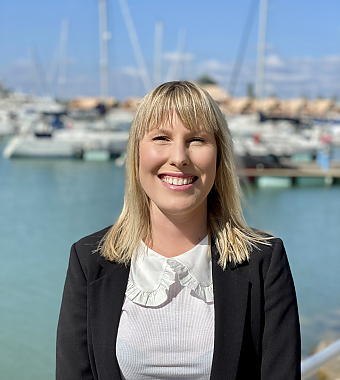 Property Promotion Consultant
Background
I am Belgian and moved to Portugal 22 years ago. I went to school in Albufeira and Vilamoura and basically grew up in the Algarve.
I then went back to Belgium to study Law and truth be told I couldn't imagine me living in Belgium because of the (dark, cloudy) weather… so I moved back to sunny Portugal. This time to Lisbon. I studied Translation and when I graduated I got a job as a Dutch teacher at University. At the same time I started my own business – along with my boyfriend – we own an aerial photography company. I am responsible for getting clients and partnerships and he does all the rest.
After a couple of years teaching Dutch I tried my luck in sales. I did that for a while and then got in touch with Michael Vincent… which has lead me to PortugalProperty.com.
What do you like most about Portugal?
The quality of life.
Why do you like working for PP?
I'm only starting now but from what I've seen PP has got all the ingredients for success: vision, great work environment, dedication and a remarkable way of building relationships. I genuinely believe in PP and I'm truly happy to be a part of it.
What do you like to do when you are not working?
A bit of everything really. I enjoy what everyone enjoys: a good meal, drink some wine, hanging out with friends and loved ones going for a walk relaxingAnd the list goes on and on but what I absolutely enjoy is discovering new places– I love Nature and the outdoors, whether it's the beach or the mountains (I would travel all my life if I could…)
I have always had a passion for animals so I could spend a whole day (life!) just being with them and appreciating life… it's that simple.
I'm just very thankful and trying to make each day the most of it.