David Rowat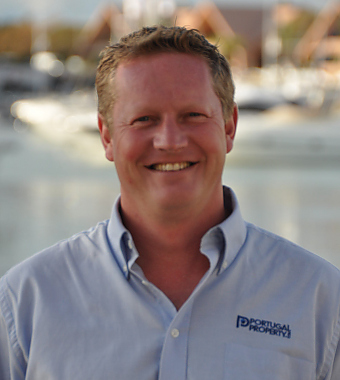 Business Development Director
Background
David has a wealth of property and financial experience following successful ventures abroad in both Spain and Portugal. He is resident in Portugal and has been happily settled since 2003 after he sold his own UK based Finance Brokerage in the late 90's. Prior to this, David held senior corporate management roles in Natwest Bank and the Bank of Scotland. Having been coaxed out of semi-retirement to sell properties, he worked and consulted with several property agents and developers before setting up PortugalProperty.com with Michael when the domain name became available - he is not one to miss a great opportunity!
What do you like most about Portugal?
The climate, the people and the way of life. The opportunity to sit outside and eat a croissant with a coffee while watching the sea or boats around the marina is, for me, enjoying Portugal in it's simplest form. The tempo is so much slower and the people have a greater emphasis on a quality of life that includes healthy lunches, family time and pleasure. I enjoy each season - the summer brings the heat and with that an influx of tourists that make it cosmopolitan. In winter we have the peace and quiet but often these times are when we enjoy the sun the most. Spring is when we have garden parties and barbecues. The sun is with us year-round and the convenience this brings on an day to day life is often taken for granted.
Why do you like working for PortugalProperty.com?
I love building the company, leading by example and watching staff develop, grow and make a career for themselves. I am always delighted that clients chose our company and I love the complements we receive which makes all the hard work worthwhile. I love the challenge of finding that perfect home - from being able to listen to a client at the first meeting to delivering a property in perfect condition and seeing the pleasure on clients faces. I enjoy pushing the company to new limits, suggesting new ideas and seeing them implemented slowly at first and then subsequently seeing them work perfectly and successfully. This was a small company once, an idea, a concept and now its growing beyond even my earlier expectations.
What do you like to do when you are not working?
I like to relax with no fixed agenda. Jump in the car, start cycling or go for a stroll and see where I end up. I live in Vilamoura so I am blessed with a variety of things on my doorstep; the beach, the marina, spas, gyms, an abundance of bars/ restaurants so I am spoilt for choice. I have a passion for sport so for complete peace I will often find a corner of a bar, sit outside in the sunshine and enjoy watching football, cricket or golf - sport and books take my mind off work. Portugal's towns and villages are all so different so a walk through the park in Loule, a dolphin adventure in Vilamoura or a Water Park slide and splash will fill my days when I am feeling energetic!