Blanca Palomero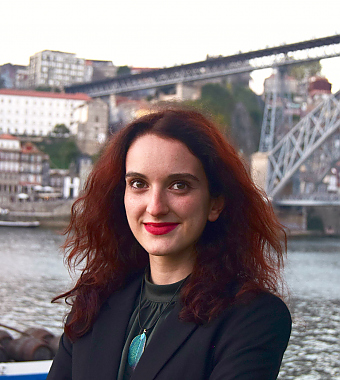 Realtor - Porto Region
Background

Blanca was born and raised in Madrid, Spain. At a very young age she decided to move to Porto to study International Relations, and she has been there ever since, making of Porto her own city and herself, a local.
Having lived in four countries (Spain, Portugal, Serbia and the UK) and speaking five languages, she has professional experience in very different areas: Spanish and Portuguese teacher, professional tour guide, operations manager and translator. Working in BHHSPP is an amazing opportunity to improve her experience and skills.
 What do you like most about Portugal? 

Everything about Portugal is unique and valuable. The beauty of its cities and nature, the incredible quality of food and wine, the humility and honesty of its people, the language, the culture... However, if I had to choose just one aspect of Portugal, my answer would be the quality of life. Portuguese people know how to seize the day and enjoy what their beautiful country has to offer.
I have been in love with this city and this country for the past five years, and something tells me I will be in love with Portugal forever.

Why do you like working for Berkshire Hathaway HomeServices Portugal Property? 

I always felt curious about the real state market. However, before working for BHHSPP I believed it to be a somehow obscure and dishonest market.
Finding this company and meeting the people who work for it completely changed my mind. The integrity and honesty – core values of the company - of the team made it extremely easy to trust BHHSPP and motivated me to become a part of this family.
Today, I feel honoured to be part of the team and, as all of my colleagues, I believe in the purpose of this company. I am positive our work is helping to improve lifes.
What do you like doing when you're not working?

My interests outside of work are so many that I never have time to get bored. I absolutely love to learn about everything. As Blaise Pascal quoted: "It's better to know something about everything than everything about something". Because of this thirst of knowledge, I decided to study a PhD in linguistic (a particular area of interest), so I do not have a lot of free time nowadays.
Anyway, I always manage to find a few minutes of the day to read or write, to be with my boyfriend, discovering lost places in nature together, watching movies or, sometimes (not so much lately), playing the piano. I definitely love any activity that involves arts, specially the written word, so, despite all of my interests, I have to recognize I am an art-lover.