Alexandru Rudenco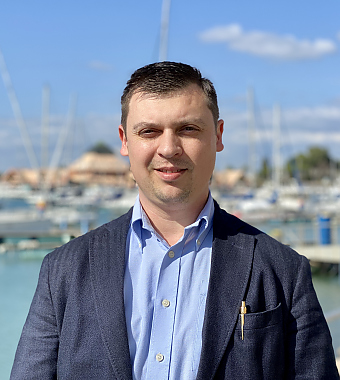 Realtor - Algarve Region
Background
Alexandru has been in Portugal since 2008 following his parents relocation to Portugal in 2000.During his time in Portugal he studied Economics at the University of Algarve and was working at the same time in restaurants, construction, and golf so he is a young man with experience in many aspects of the Algarve.
He has a wife and son and is very happy to live in Portugal.
What do you like most about Portugal?
This may sound a bit lame, but luckily Portugal has the majority of its awe-inspiring coastline and beaches facing west, which happens to be the orientation the sun sets every day!
Life in Portugal's major cities has been enhanced by historical trams running over the past century, particularly in Lisbon as it's impossible to leave the city without a ride on the popular tram 28 which connects areas of the city still inaccessible by metro.
More than 800km of coast, the biggest fishing zone in Europe and laughable prices make Portugal one of the most fish-friendly places you've ever been to. Dourada, Sardinhas and Robalo are always delicious options.
Portugal colonized Brazil, Angola and East Timor – producers of some of the finest coffee in the world – so things make more sense - you'll never find better tasting value-for-money coffee in Europe.
Fado is probably the most melancholic music you'll ever hear and still somehow makes the ideal soundtrack for every trip to Portugal. Even if you don't understand a word, it has the power to make you introspective. The new generation of singers like Ana Moura and Mariza is making fado sexy and modern.
Eating or drinking while walking is uncivilized. You can buy a Coke from a vending machine and drink it standing there, but once you are mobile, you must put it away!
Why do you like working for Berkshire Hathaway HomeServices Portugal Property?
Working for Berkshire Hathaway HomeServices Portugal Property is a challenge and I love it because every day I learn something new. It is about meeting new people and bonding and building relationships and being part of a team that is growing daily. My colleagues are dedicated and motivated.
I love competition and thrive on delivering results. I love working in a team and Berkshire Hathaway HomeServices Portugal Property is the best team I have ever worked for. Everyone is so professional, kind and competitive. We all work hard on getting results and every little thing we do is always recognised and rewarded. Our focus is to make all our clients happy and feel comfortable in buying into their new dream!
What do you like to do when you are not working?
I have a young son who was born in Portugal so he keeps me very active. We like to play football and ride a bike.
My family and I spend most of our time outside enjoying the outdoors, enjoying Algarvian beaches, walking, socialising and eating out - there are just not enough hours in the day to do everything.
I like fishing it's just totally awesome when you can take an artificial lure put it on the fishing line and wait, it's so relaxing - a great thing to do with your family, to be out in fresh air and warm sunshine!