STUNNING - Luxury villa with an unbeatable sea view
Sold
Loading


Enlarge or View 8 more photos
Description
Every once and a while I see a property which will be sold very quickly and I want to be the one to sell it. A property that outperforms all other properties in the location and at an amazing price. When we have a property like this we assess it against our ten-star standard criteria. To obtain this standard we interrogate the property on the ten key issues on a typical client checklist; location, value, investment, rental potential, resale potential, desirability, quality/ range of specifications, environmental aspects, reputation & recourse.
David Rowat
Location- Why Lagos?
Lagos has always been a favourite destination. It combines many of the attributes that has made the Algarve a fantastic holiday destination; wonderful sandy beaches, top quality golf courses, historic and cultural old town, cosmopolitan nightlife, sophisticated marina, long promenades and a wonderful range of beach activities and boat trips.
Leading travel website Trip Advisor has named Lagos in the western Algarve as one of 15 rising destinations in the world based on feedback from customers.

Lagos, the only Portuguese destination on the list, also received a 2011 Traveller's Choice award for its stunning beaches. Lagos marina holds a blue five star award, the highest accolade from the International Marine Certification Institute (IMCI) for a high standard of water quality and attention to the environment.
Why Porto do Mos?
Porto do Mos is set a few kilometres west of the centre of Lagos. It was an untouched headland seven years ago before the planners agreed to allow low density construction. Since that time the properties constructed are top quality luxurious modern villas and two or three story top-of-the-range apartments.
The area's outstanding benefit is that all the properties are within five minutes walk to the beach. The beach is one of the best in Portugal if not Europe. Miles of sandy beach backed by stunning cliffs. Two typical beach cafes/ restaurants are on the beach which are well established and very popular. Another local favourite restaurant is a few minutes walk. A small supermarket is nearby and Intermarche just a few minutes drive.
There is planning permission in place for a 5* hotel in the middle of the area which would provide the icing on the cake.
A feeling of affluence, safety and cleanliness is what makes the area thrive. The best golf course in Lagos - Boavista Golf, SPA and Country Club - is just a few minutes drive – you are next to the beach and near everything else.
Why is it great value?
There are some majestic villas on this headland but not all benefit from sea views. Prices start from around 850,000 euros and increase easily to 2 million. This one has a fantastic sea view – where you can see the imposing cliff edges, golden sandy beach and watch the waves caress or crash depending on the time of year.
It has been reduced to this price as the developer wishes to generate cash for other projects. It is currently the home of the developers daughter and was built to her specifications originally not as a speculative build – hence the quality is higher than normal.
Why is it a great investment?
Sea view properties always hold their value due to the fact they are rarely on the market. It is also becoming more difficult to build properties within 500metres of the sea as strict European planning and environmental laws prohibit new constructions.
When properties start to increase in value again it will be the desirable ones that will see the first and most rapid rise. Those that are unique and different and exude the wow factor. Securing this property now, in a buyer's market and with a motivated vendor who needs to sell will ensure you secure your investment at the best possible time giving you the best chance to maximise potential growth.
The headland in Porto do Mos is almost complete. The plots that are available are not frontline. With the area reaching saturation point and a 5-star hotel on the horizon then prices should begin to harden and increase again and this villa sits on one of the best plots.
What is the Rental potential?
In high season should you wish to rent this villa we would expect rental income of 4000 euros per week, in the shoulder weeks around 2500 euros per week and off season 1500 per week.
Normally you should expect around 12-14 weeks rental for this property per annum but it depends on your views. If you drop the price a little in the middle/ low season we see no reason why 20 weeks would not be achieved.
A typical yield would be around 4/5% gross per annum.
What is the Resale potential?
Neighboring villas secured in the last few years had price tags in excess of two million so if and when you want to sell your villa, it will always be very easy to sell in comparison to those bought in the peak years.
This villa could easily sell for two million now. That's a firm belief of mine. I see similar villas all over Portugal all priced in excess of this amount without any of the luxuries at hand. For the right client this is perfect. For this reason resale will always be swift and immediate in an average market.
For a property to sell without difficulty it has to have as little or as few objections as possible. We have to ask ourselves why wouldn't somebody buy it? This villa really doesn't have a list of reasons not to buy. It will always tempt the client to buy it so as a company we want to sell it now and would love to sell it again in the future. We always want properties that give us creditability.
Scarcity equals power – power to price as a luxury item rather than be one of many.
Desirability
In essence does it have a wow factor? – those feelings we all want to experience from the minute we arrive, walk through the front door, admire the kitchen, see the expert quality in the construction, walk on the decking, imagine swimming in the pool and drinking wine as the sun sets.
This villa has a 110% wow factor – anyone would want to own this villa.
Using the contours of the hill and with cleverly selected bushes you have privacy and yet your views are unaffected.
It is irresistible.
Specifications
The specification of the villa is to very high standards. All the tiles are supplied direct from Porcelanosa. The kitchen is large with beautiful worktops. Siemens appliances and gloss white fittings. An eye catching 'hob island' and breakfast bar. The utility room appliances are in Miele.
The villa has 'demotica' – which is what we call a 'smart house' – meaning you can communicate to the house from your mobile phone, be it closing the blinds, setting the heating or adjusting the lights.
The villa comes equipped with electric blinds and central vacuuming system together with underfloor heating and a self regulated cooling system.
Fully installed smoke, flood and intruder alarms / tiled Jacuzzi and swimming pool / real log burner with decorative black slate surround / low maintenance garden mainly with decking, neat vegetation and palm trees / huge and versatile garage of 170m2.
Environmental issues
The house benefits from a full solar power heating system to warm the house and provide hot water. A back up heater is installed should this be necessary.
The National Energy Certificate Law Directive No. 2002/91/EC Decree-Law n. 78/2006 of April 4 governs energy performance of buildings. This law makes the seller inform the purchaser about the thermal quality of buildings.
This villa was granted 'A+' status on its energy certificate proving that is was built to the highest standards in energy conservation.
Reputation
The builder is arguably one of the best in Lagos and the firm is now in its second generation with the son handling day to day matters.
The firm has been established for over 25 years and has built thousands of apartments and villas. They provide a 'snagging' service to ensure any small issues are dealt with quickly and efficiently.
As for our experience with them, their quality and service levels are second to none.
Guarantees & Building Regulations
Under the Portuguese Law article 4 of the Decree Law No. 67/2003 - All new properties built in Portugal have a five year guarantee where the seller is responsible for defects. The purchaser benefits from a legal guarantee of five years against such defects as structural build, structural infiltration, facades, windows and roof. As this property was built in 2010 there is a guarantee for the remaining 5 years.
Property Features
Villa
Swimming pool
3 bedrooms
4 bathrooms
Air conditioning
Garden
Heating
Garage
Parking
Reception room
Terrace/balcony
Covered dining area
Kids play area
BBQ
Laundry room
Storage room
Spacious
"Smart house"
Character property
New development
Exclusive property
Luxury property
Features great views
Sea view
Morning sun
Evening sun
On the waterfront
Near bars/restaurants
Near schools
Near shops
Near a golf course
Near the beach
Key Information
1400000
Reference:

PP485

Type:

Villa

Location:

Porto de Mos

Region:

Western Algarve

Bedrooms:

3

Bathrooms:

4

Build Size:

296 m²

Plot Size:

820 m²

Price/m²:

4730

Price +/-

-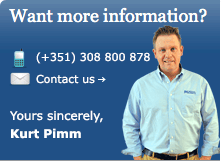 Portugal Property Search
Search by Reference
The Best Selection of...