News Blog
Discover Which Three Algarve beaches have reached the Coveted '7 Wonders' Award Shortlist Published on 14 Jun, 2012 by Frederico Leng / Google+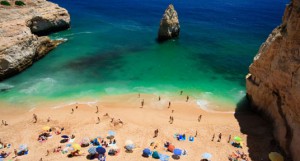 Algarve Beaches
The beaches in the Algarve are considered to be some of the most stunning in the world; therefore, it has come as no surprise that three Algarve beaches have been selected for an award. The 7 Wonders Awards take place every year, and continue to promote the beaches and surrounding areas. There are 21 finalists to choose between, and the competition is fierce.
There are three main criteria for the beaches to be selected, these include, tourism, water quality and environment. Once the finalists have been chosen, it is up to the general public to vote for the beaches that they feel are worthy of the award. The results of the public vote are announced on the 8th September, and many local people are keen to hear the results.
The tourism committee feels that one of the largest reasons travelers choose Portugal and the Algarve are for the stunning beaches. Therefore, acknowledging the beaches that have made the most effort is a fantastic way to support the local community. This will ensure that more municipalities make an effort and improve their beach areas.
The beaches, which have been chosen in the Algarve, are Arrifana, Tavira Island and Odeceixe, and all three have many incredible qualities. Many of the beaches in the Algarve were put forward for selection; however, these were the only three that were considered to be of the highest quality. Since the selection process, more investment and attention has been placed on these beaches to ensure that they remain stunning.
There are several different categories within the awards, and the beaches of Odeceixe and Arrifana, are battling it out in the "cliffs" category, whilst Tavira Island is attempting to win the "dunes" category. The different categories show how diverse the beaches are in Portugal, and how there is something for everyone.
Antonio Pina who represents the tourism board has asked for everyone to vote, and put the support behind the local beaches. A huge number of local people enjoy the beaches alongside the tourists; therefore, everyone is entitled to vote. The local people need to feel proud of their beaches, and these awards will provide the acknowledgment that the beaches are fantastic.
Voting is incredibly straightforward, and you can cast your vote via, Facebook, SMS, online or by telephoning until 7th September. Once the votes are in and counted, the winners will be announced live on the Portuguese TV channel RTP1. This will hopefully reinforce the statement that the beaches in the Algarve are the best. For those looking to buy Algarve property get in touch now, you won't be dissappoited, the Algarve has it all!!
---
PortugalProperty.com - Portugal's largest real estate company - contact the team via email at: info@portugalproperty.com or call free on +44 (0) 800 014 8201
Published in Guide to Portugal / Travel
Portugal Property Search
Search by Reference