News Blog
Roaming through Europe just got Cheaper and Easier Published on 23 Jun, 2012 by Emma Guerreiro / Google+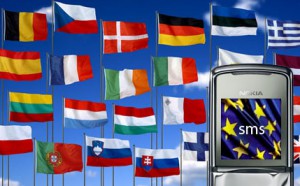 Roaming charges are when a person who has a cellular phone service "roams" away from their home base. What this means is that if someone lives in Texas then gets in their car and drives to California and then decides to use their phone, they will see higher than normal charges on their next cellular service bill. Depending on what company a person uses, roaming charges might not apply or they can be extremely high.
If someone thinks the roaming charges in America are high, imagine what they would be if a person went from the United States to anywhere in Europe? Good news for those people that are traveling around Europe and who want to use their cell phone, their smart phone, or their tablet, is that the roaming rates are about to get a lot lower!
Since the summer of 2007, people traveling across the European Union had to pay roaming charges. What this meant was that whomever that person had for a cell provider, that person had no choice but to pay that company's roaming charges. However, that is about to change! The old contract, that bound a person to the roaming charges provided by his or her cell service company and was only good for five years, began in June of 2007 and is only good until June of 2012.
What does this mean for the European Union roamers? As of July first, anyone who is traveling in the European Union will now have a choice as to who will provide them with roaming services. This new deal was approved by Parliament on Thursday. The vote won by a landslide of 578 to 10.
What will this mean in terms of pricing? What the new plan will do is lower the cost of data services and cell phone calls over a period of two years. Beginning July first when the plan begins, there will be a limit of seventy euro cents for every one megabyte of data service used. The price will then drop in 2013 to 45 euro cents, and then to 20 euro cents by 2014. In terms of calls, the price of 35 euro cents that is the price consumers pay now will also change.
As of July first, the price of phone calls will go from 35 euro cents to 29 euro cents, and then drop again to 19 euro cents by July of 2014. The cost of sending a text message will also change. Right now it costs 11 euro cents to send a text, but the good news is that the rate will lower to 9 euro cents when the new plan begins, and again the price will drop even more to 6 euro cents by the summer of 2014.
There will also be a new warning service that will be sent to anyone that is approaching 50 euros in charges. As of right now, alerts are only offered to people within the European Union, but now people outside of the European Union will be able to take advantage of the alerts as well.
The purpose of this new deal approved by Parliament is not only going to help thicken the wallet of the cellular consumer, but with lowers rates now being offered this new plan will also boost tourism to the European Union and bring in those tourist dollars.
---
http://www.portugalproperty.com - Portugal's largest real estate agency - with over 5000 of Portugal's finest homes for sale. Contact the team via email at: info@portugalproperty.com or call free now on +44 (0) 800 014 8201
Published in News and Updates / Travel
Portugal Property Search
Search by Reference