News Blog
Quinta dos Vales Wines Receive Two International Awards Published on 04 Jul, 2012 by Frederico Leng / Google+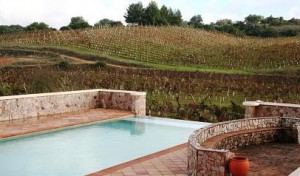 Quinta dos Vales wines
Wine production, arts and events center Quinta dos Vales triumphed during the Concours Mondial de Bruxelles. The competition was held in Guimarães, the Portuguese city that was named European Capital of Culture for 2012. Quinta dos Vales is triumphant once again, after it has managed to establish itself as a regional wine production leader.
The first award, a gold medal, was deservingly awarded to Grace Viognier 2011, a fine white wine that follows the footsteps of its predecessor. The white wine produced by Quinta dos Vales in 2011 won a number of distinctions, including the award for best Algarve wine for the year.
In addition, Quinta dos Vales Marquês dos Vales Selecta 2009 deserved a silver medal. The red wine impressed with its impeccable quality, the floral notes and the accompanying beautiful tones of fresh berries.
The two awards received during Concours Mondial de Bruxelles bring the number of Quinta dos Vales distinctions received during the recent years to an impressive total of 60. Quinta dos Vales is mainly recognized for the tremendous white wines it produces.
The company holds pride in the awards it has received. Some of the most important distinctions include a bronze award from the Decanter World Wine Awards, a bronze medal from the International Wine and Spirit Competition in 2011, a silver medal from the 2011 International Wine Challenge and two bronze medals from the same competition.
The center exports some of its fine white wines, apart from making those available for local sales. Foreign consumers seem to be just as impressed with the quality and the biggest fans of the Quinta dos Vales wines abroad live in Germany. Asian markets have responded positively to the Portuguese wine export, as well.
Quinta dos Vales has managed to win the sympathy of both professional wine tasters and the consumers. Due to the popularity of its products, a number of varietal wines have been sold out before they even became available on the market.
To be successful, the center has expanded the range of wine-related activities that it offers. People that visit Quinta dos Vales can choose among wine tasting, wine tours and gastronomic adventures that will satisfy even the pickiest of palates.
Quinta dos Vales is exceptionally proud with the quality of wines that it offers for purchase. The center demands serious reduction of the production, which may sometimes total 50 percent of all the grapes. The acidity of the grapes is tested on a daily basis so that the harvest is scheduled to take place during the most suitable moment.
Additionally, the grapes have to undergo yet another selection process as soon as they reach the wine cellar. Quality control affects wine production and all of the barrels that fail corresponding to the strict requirements are eliminated before the final product is ready.
---
http://www.portugalproperty.com - Portugal's largest real estate agency - with over 5000 of Portugal's finest homes for sale. Contact the team via email at: info@portugalproperty.com or call free now on +44 (0) 800 014 8201
Published in News and Updates
Portugal Property Search
Search by Reference