News Blog
Economic Benefits for Portugal after Completion of the Hydrocarbon Survey off the Algarve Coastline Published on 30 Jun, 2012 by Kenneth Laing / Google+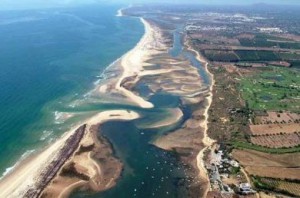 The Algarve Coast
Repsol have completed the initial surveys along the coastline, to determine if the hunt for oil will be successful. These surveys have come after many months of meetings with the petrochemical company Repsol and the economy minister. Using the ship Polarcus, the team of experts now has all of the data that they need to determine if there is sufficient oil and natural gas.
These surveys were delayed for over four years, due to a huge number of environmental concerns, which had to be discussed. However, the newly elected Portuguese government feels that the benefits from allowing Repsol to drill for oil are huge. The work in the water begun in March, and although incredibly controversial, the government allowed them to continue.
The stretch of water between Vila Real de Santo Antonio and Faro is the first to be surveyed, and all of the data which was gathered is now being analyzed. Once the evaluations have been completed, and the studies assessed, Repsol will determine if there are potential deposits in this area. If these are a success, drilling rigs may begin to appear by 2014.
One of the potential areas for drilling can be seen from the local, tourist beaches, which is a concern for the tourist board. The people objecting to the drilling going ahead believe that even the smallest of oil spills could be devastating. Prolonged damage to the beautiful beaches may happen, which will destroy the healthy tourist industry, which has been built up over many years.
However, Repsol stress that all testing and further drilling will be performed in accordance with the standards of environmental and safety protection. The 3D geophysical data, which was collected, was monitored by several different, influential people. The Marine police, control center for vessel traffic, naval command and Maritime authority were all in attendance.
There was also no inconvenience to the local fishing fleets, as Repsol carried out the surveys in three different sectors. This ensured that there was minimal risk to the water, and no inconvenience to the local industries. All of the surveys were carried out alongside the local fishing boats, ensuring that there was no secrecy behind the testing.
Portugal has all of the necessary ingredients to become a successful oil producer, which will help the economy in the country. The environmental concerns are expected, however, there are a huge number of safety standards that have to be met. The government feels that if Portugal does not take this opportunity, other countries will benefit.
---
http://www.portugalproperty.com - Portugal's largest real estate agency - with over 5000 of Portugal's finest homes for sale. Contact the team via email at: info@portugalproperty.com or call free now on +44 (0) 800 014 8201
Published in Business / Guide to Portugal / Portuguese Life
Portugal Property Search
Search by Reference