News Blog
Credit Lines Opened for Portugal's Tourism Sector Published on 23 Apr, 2012 by Michael Vincent / Google+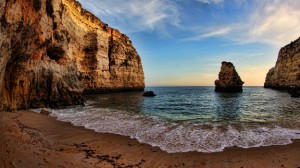 Álvaro Santos Pereira, Portugal's Minister of Economy and Employment, recently announced that up to €200 million in credit lines will be available for the country's tourism industry. This is in response to the national government's plan to boost the tourism sector, which has lately been beset with challenges borne of the current economic crisis. The most notable of these difficulties is in accessing credit lines.
The €200 million will be made available from next month until 31 December 2013. It is available via an agreement with 13 banking institutions in the country. Said agreement, which will be known as the collaboration protocol, will be signed soon.
There will be two lines of credit available. Both are designed to achieve three goals, namely, to regenerate existing tourism developments, meet urgent short-term business requirements, and aid in cooperation projects between tourism-related companies.
These credit lines are projected to significantly aid restaurants in the tourism industry. The Algarve Resident newspaper reported that, in Portugal, an average of one restaurant per day closes its doors permanently. The data was culled from the Association of Hotels, Restaurants and Related Businesses in Portugal (AHRESP).
The association further clarified that the number of insolvency cases in the restaurant sector only includes those reported in the Diário da República, Portugal's official government publication. As such, the number of insolvent restaurants could be higher than reported.
It should be noted that the restaurant sector is one of the most crucial in the tourism industry. Local, national and international tourists come to Portugal to sample its culinary specialties, not to mention feed their bodies with filling and delicious food for the adventures up ahead. Indeed, restaurants represent an important revenue-generating source in the tourism industry.
The criteria for availing of these credit lines were also released to the Algarve Resident.
Such news is truly good news for the tourism industry. Portugal is one of the most visited countries in the world with an annual average of 13 million international tourists. The tourism industry itself contributes approximately 5% to the country's Gross Domestic Product (GDP).
There are many tourism hotspots in Portugal of which the most notable are, in order of importance, Lisbon, Algarve and Madeira. In an effort to strengthen the country's hold in European tourism, the Portuguese government continues to develop new tourist places including Alentejo, Porto Santo and Douro Valley.
---
For information on Property in Portugal contact the Portugal Property team via email at: info@portugalproperty.com or call free on +44(0) 800 0148201
Published in News and Updates
Portugal Property Search
Search by Reference