News Blog
Carvoeiro, Portugal – A Helpful little Guide Published on 17 Apr, 2012 by Michael Vincent Google+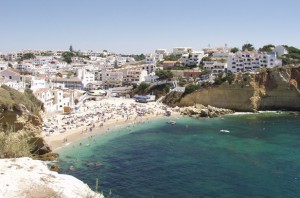 If you want to travel to an stunning sunny location that also has a flair for local culture look no further than Carvoeiro, Portugal. It is located in Algarve, Portugal. It has the perfect combination of beaches and culture. If you want a summer Carvoeiro property in the sun this is the best place to go for an extended holiday. The weather is perfect all year round and is almost always sunny and warm. If you want a second property this is the place where you can purchase it at a reasonable rate and enjoy it all year long when you need a holiday.
Beaches
There are many beaches and coves available for your pleasure. The beaches all have golden sand and crystal blue waters. Some of the beaches you can enjoy are Albandeira beach, Marinha beach, Benagil beach, Cavalho beach and Paraiso beach just to name a few. Carvoeiro can meet your beach needs whether you want a long beach with lots of people or a secret cove to enjoy a private moment. If you prefer to enjoy the beach in the nude there are beaches that offer clothing optional areas. You can just sit back and allow the sun to bronze your skin.
Transportation
The local airport is only thirty moments from Carvoeiro. If you need transportation while in the area there are buses available to take you around the town. This was once a small fishing village and it is easy to get around and enjoy the local culture and beaches.
Things To Do
You can enjoy the beach or even have one of the locals take you fishing. If you are in the mood for shopping then the market is a great place to shop. You can also take a boat trip to the coast or one of the grottoes. The Algar Seco is one attraction that you have to see to believe. Wave erosion has carved out grottoes and water chimneys and it is great for exploration. If you love to golf Carvoeiro offers golf and a tennis center. If you are interested in night life there are plenty of bars and restaurants to meet that need. You can enjoy the beauty of the ocean during the day and then dance the night away.
Property
If you are seeking property for sale in Carvoeiro there are a variety of options for a second home to be used for holidays. They have small, studio apartments that are reasonably priced and then there are larger homes that have swimming pools that overlook the ocean. If you want to make a larger investment there are entire properties for sale that you can use for your holiday and rent the remainder of the property to others that are on holiday. There are many options, and one of the local realtors can help you find the property that meets your needs so you can have the perfect getaway. Having a second property is not only great as a getaway but also as an investment.
Carvoeiro Portugal was once a fishing village but now it is a tourist attraction that has many visitors. It is a gorgeous and pristine place that offers all the culture that you can expect of Portugal but with beautiful beaches and coves. If you want property and the perfect holiday home then this is the place for you! ?
---
Contact the Portugal Property team on +44(0) 800 014 8201 for more information on property for sale in Carvoeiro
Published in Guide to Portugal
Portugal Property Search
Search by Reference